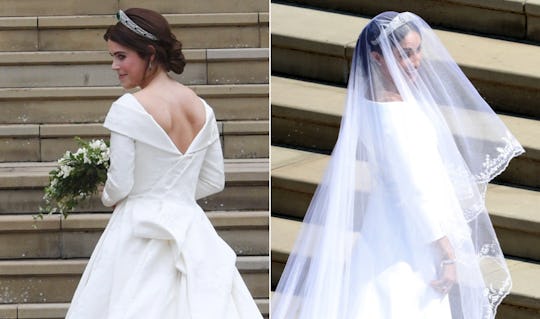 WPA Pool/Getty Images Entertainment/Getty Images/ WPA Pool/Getty Images Entertainment/Getty Images
Princess Eugenie's Wedding Dress Compared To Meghan Markle's Show Off Both Brides' Unique Style
This year has a been a busy one for royal weddings! First, in May, Prince Harry, Duke of Sussex married Meghan Markle, Duchess of Sussex, and on Friday, his cousin, Princess Eugenie, wed her betrothed, drinks executive Jack Brooksbank. Both royal ceremonies took place at St. George's Chapel at Windsor Castle, and were equally magnificent. But the wedding dress is one area where the two weddings diverged. Eugenie's dress compared to Meghan's showed key differences in style and personality, although both are instant classics.
Where Markle's Givenchy gown was simple, yet elegant, Princess Eugenie's dress could be described as extravagant and symbolic. The long-sleeve white wedding gown, designed by Peter Pilotto and Christopher De Vos, founders of the British label, Peter Pilotto, featured a fitted bodice and full-pleaded skirt, with a v-neckline that folded over the shoulders to a low back. The low back, which draped into a flowing full-length train, was a specific request from Princess Eugenie, who had surgery to correct scoliosis at 12 years old, according to the Royal Family website.
The pattern of Eugenie's dress is also loaded with meaning. The designers took three symbols meaningful to the royal couple — the Thistle for Scotland, the Shamrock for Ireland, the York Rose and ivy — and reinterpreted them into a garland of rope-like motifs. Those motifs were then weaved into a silk, cotton, and viscose blend fabric.
The 28-year-old princess also paired her wedding gown with a jewel-encrusted tiara borrowed from her grandmother, the Queen. And it's a pretty famous tiara, at that: Princess Eugenie wore the Greville Emerald Tiara, which was made by Boucheron in 1919 for Dame Margaret Greville and inherited by Queen Elizabeth II in 2002. The famed tiara features emeralds and diamonds set in platinum, and is absolutely exquisite.
The former Suits actor, on the other hand, dazzled her guests on her wedding day in a modest, but stunning Givenchy wedding dress designed by Clare Waight Keller. Markle's silk dress featured a bateau neckline and three quarter-length sleeves, and came in at the waist. The fabric was unadorned, and the skirt slimmer than Princess Eugenie's princess-style gown.
The tiara is also another area where the royal women diverged in style. Where Eugenie's tiara was ornate, Markle's headpiece was less elaborate. The Duchess of Sussex wore Queen Mary's Diamond Bandeau Tiara, which was made in 1932 and inherited by the Queen in 1953. The tiara features diamonds encrusted in platinum.
Markle also wore a dramatic 16-foot veil that featured the flower from every county in the British Commonwealth stitched into the trim. Princess Eugenie, however, opted not to wear a veil along with the Greville Emerald Tiara.
Although there are notable differences between the wedding gowns worn by Meghan and Eugenie, respectively, the dresses are both still timeless pieces that captured the styles and personalities of each bride. And there's no denying that both women looked absolutely gorgeous during each of their wedding ceremonies. Whether it's a Givenchy dress of Peter Pilotto gown, Markle and Eugenie know how to captive an audience.