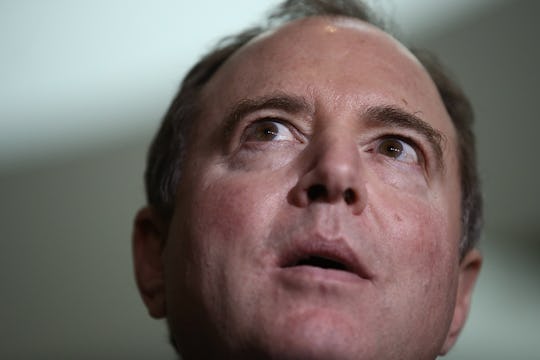 Win McNamee/Getty Images News/Getty Images
Adam Schiff Pushes Back On Trump's Russia Tweets
As United States intelligence officials continue to investigate allegations about the run-up to the 2016 presidential election — both levied against and made by Donald Trump and his administration — the president is clearly agitated. On Monday, the House Intelligence Committee held a hearing to hash out the investigation into Russia's interference in the outcome of the race between Trump and opponent Hillary Clinton, whether Trump's people colluded with the foreign government, and Trump's own outlandish, wholly unsubstantiated claim that President Obama wiretapped Trump Tower, Trump's New York City home base, during the campaign last year. Shortly before, the president embarked on one of his trademark Twitter tirades about the whole situation, and California Rep. Adam Schiff's response to Trump's Russia tweets firmly highlighted their ridiculousness.
In a series of tweets, Trump blasted the question of whether members of his team had any hand in coordinating the cyber attacks targeting Clinton Campaign Chairman John Podesta, for example, and the onslaught of misinformation online that possibly swayed votes in Trump's favor as "FAKE NEWS." He then accused Democrats of having made up the story completely. But Schiff, who's the top Democrat on the House Intelligence Committee, was 100 percent unimpressed and pushed (or, rather, tweeted) back — hard. And he summed up his four-part rebuttal with a terse request that many Americans have been phrasing much less politely: "Please stop."
"Mr. President, the Russians hacked our election and interfered," he wrote, referring to a post-election report from intelligence agencies like the FBI, CIA, and the NSA that concluded as much. "No one disputes this now, but you. This is what is called 'fact.'"
In fact, as the hearing got underway not long after, FBI Director James Comey confirmed both that there is an official, ongoing investigation into Russia's interference in the election, as well as the role Trump's team played in that effort, if any, according to The Washington Post. The Trump team has vehemently denied that it colluded with Russia, but has not responded to Romper's requests for additional comment.
Suspicions about collusion between Trump campaign officials and the Kremlin reached a crescendo among the public in mid-February. That's when National Security Advisor Michael Flynn resigned his post after it was revealed that he had lied about having had a conversation with the Russian ambassador, Sergey Kislyak. Soon after, Attorney General Jeff Sessions recused himself from any possible investigations into the Russia matter when it came to light that he had failed to disclose his own conversations with Kislyak under oath during his confirmation hearing. Sessions, for his part, has insisted that the conversations were innocuous, and has denied misleading the Senate during his confirmation hearing.
Next, Schiff turned his attention to the baseless allegation that President Obama had tapped Trump's phones, which Trump made on Twitter two weeks ago. He never cited any evidence to back it up. "As you will see during our hearing, Mr. President, there is no evidence Mr. Obama tapped your phones. This is what is called 'fiction,'" Schiff wrote.
And Schiff's promise came true: To no one's surprise, Comey said Monday during the hearing that there is "no information" to support Trump's inflammatory claim, Politico reported. Likewise, NSA director Michael Rogers formally debunked the follow-up accusation of White House Press Secretary Sean Spicer that British intelligence officials had spied on Trump on behalf of the United States — a similarly incendiary allegation that appears to have no relationship to reality. It's also one that Schiff went after in his tweetstorm, pointing out that such talk is "harming our relationships with key allies" and amounts to "collateral damage."
"The intelligence community concluded the Russians will interfere again," Schiff concluded. "This is why full investigation is important to country. Please stop."
It's not at all likely that Trump will heed that advice and stop tweeting and saying dangerous nonsense. On Monday, though, the voices of reason in the federal government had their change to rebuke his harmful, careless rhetoric — at least for one day.