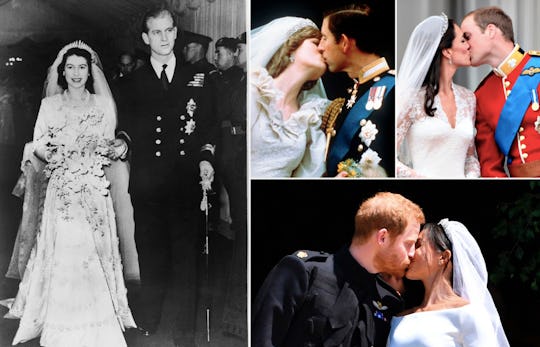 ullstein bild Dtl./ullstein bild/Getty Images/ BEN STANSALL/AFP/Getty Images
Let's Take A Stroll Down Memory Lane With Some Royal Family Wedding Photos, Shall We?
Queen Elizabeth and Prince Philip celebrated 72 years of marriage on Nov. 20. Allow that to sink in for a moment. They've been husband and wife for more than seven decades. Of course, a lot has happened since they tied the knot, and looking through royal family wedding photos over the years provides a pretty fascinating look at the long history of marriage in the monarchy, not to mention how times have changed.
Prince Philip of Greece and Denmark and Princess Elizabeth of the United Kingdom exchanged "I dos" on Nov. 20, 1947. At the time, Princess Elizabeth's father, King George IV, was still alive and the reigning monarch, and his daughter's wedding was an appropriately lavish affair. Well, sort of, at any rate. The couple got married at Westminster Abbey, but the bride's wedding dress, created by British designer Norman Hartnell, was actually purchased with war rations as World War II had only ended two years before.
Queen Elizabeth and Prince Philip have gone on to be married for 72 years and welcomed four children together. But on Nov. 20, 1947, they were just a young couple looking forward to a bright future together. And little did they know how their own special day might affect royal weddings to come after them.
From Queen Elizabeth and Prince Philip to Meghan Markle and Prince Harry, here's a look at some royal weddings over the years that have grasped the world's attention.