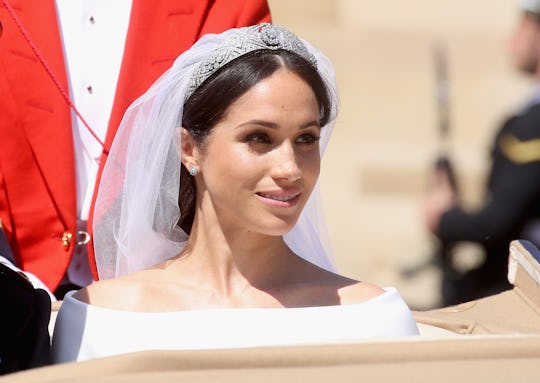 Chris Jackson/Getty Images Entertainment/Getty Images
Um, Can We Let Meghan Markle Enjoy Her Wedding Day Before We Start The Baby Talk?
People are understandably very invested in Meghan Markle and Prince Harry's relationship, as they are with most of the royal family. Love, as Rev. Michael Curry said during his royal wedding sermon, is powerful. So powerful, in fact, that it made some commentators travel back to medieval times when they discussed Harry and Meghan's future and eventual children. Like, what? They literally just put rings on each others' fingers. Can we let Meghan Markle enjoy her wedding day before we start talking about how many kids she might have one day?
Of course it's not surprising that on almost every network's live coverage, according to Twitter, some commentator, spoke of the couple's supposed eagerness to procreate. People do that all the time to women everywhere all the time. It's like as soon as a woman hits her mid-twenties, everyone becomes very concerned about the state of her uterus. Whether she's married or not, and usually despite any indication from the woman that she might want kids in the first place.
Not only is it sexist to assume that a married woman's first duty is to get knocked up, in the case of Markle especially, the comments took a reportedly ageist turn. Some viewers on Twitter reported that male commentators were especially worried about 36-year-old Markle's "biological clock ticking," which is a very gross thing we need to make sure people stop saying as soon as possible.
At the very least, people should stop talking about the bride's fertility while she's still wrapped up in a custom Givenchy dress. Please, let Meghan Markle, and brides everywhere, live their lives and take care of their own family planning.
What's especially frustrating about the speculation about when Markle will have kids on her wedding day was that she really did everything she could to make the day about her and Harry. That's not easy to do with all of the pomp and circumstance that comes with a royal wedding, but they managed to pull it off. The choice of musicians and speakers at the wedding was the perfect blend of their backgrounds. Markle's dress was timeless and put her, as a person, front and center. As Vanessa Friedman at The New York Times pointed out, the dress was made for a "person, not a princess."
Then, there was the striking, very modern way that Markle entered the chapel — alone. Well, with two adorably toothless kids trailing behind her, but she essentially walked herself into her wedding. Prince Charles accompanied her for the second half, but Markle made it so that no one was "giving" her to anyone, which is how it should be. It was a testament to her feminism and the kind of life she and Harry might live. A modern marriage means that both partners are equal and kids aren't always an important factor in that equation. Especially not twenty minutes after saying their vows.
But who knows, really. Maybe Meghan and Harry want just hordes of children running around the grounds of Kensington Palace. Maybe Markle is dying to have kids as soon as possible. Maybe she can't have kids. Maybe Harry can't. Maybe Meghan froze her eggs years ago on a whim, maybe she and Harry want to adopt, or maybe, the most "scandalous" option of all — she and her husband don't want kids at all. The thing is, we don't really know what they want and it's none of our business.
Women, even ones who marry into royal families, aren't just here to make babies. And the purpose of getting married is to commit yourself to a partner that you love. You take a vow to cherish and honor each other at the altar, not sign a contract promising a male heir within the first six months.
Since basically forever, a woman's worth has been tied to her ability to find a male partner and have children, which is totally backwards. Watching Markle on her wedding day was a nice reminder that things have changed, somewhat. Obviously not enough, since some people couldn't help but watch a strong woman walk herself down the aisle and then wonder what she'll name her children. Let this be a reminder to those people: Let a woman enjoy her wedding day before you start asking her about kids. And actually, just stop asking women about their ability to reproduce altogether.