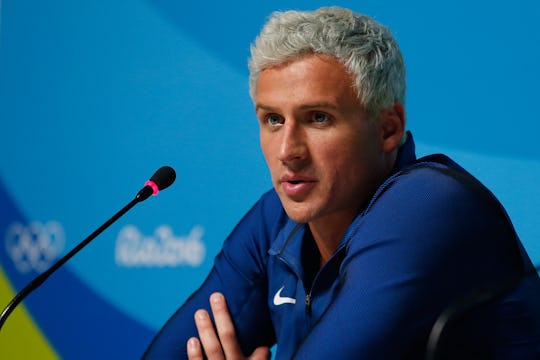 Matt Hazlett/Getty Images Sport/Getty Images
Ryan Lochte Summoned To Testify In Rio Robbery Case
U.S. Olympic swimmer Ryan Lochte has conceded that Jeah, I "over-exaggerated," as his way of taking some ownership over the international scandal he caused when he reported a robbery in Rio de Janeiro. Of course, as we all know by now, robbers posing as Brazilian law enforcement officials didn't actually put a gun to his head and steal his money. And the situation is not just fading away now that Lochte is back in the United States: On Thursday, it was reported that Lochte had been summoned to testify in the Rio "robbery" case.
Although Lochte dipped from the country amid accusations that he had fabricated the story to cover up his own bad behavior, Brazil's Justice Department wants him back, stat, because he's still got some explaining to do. Lochte's original claim that he and three other Team USA swimmers had been pulled over in their taxi and robbed at gunpoint on their way back to the Olympic Village August 14 after a night of partying has crumbled. Instead, surveillance video footage has revealed that the the swimmers voluntarily stopped at a restroom, and that Lochte allegedly vandalized the facility. A guard has admitted to drawing a gun in the swimmers, according to TODAY, and the Americans ultimately paid about $50 to leave the scene.
After changing his story in speaking to various media outlets and submitting a false police report, Lochte eventually admitted he was drunk and apologized. The apology came only after he had safely returned to the United States, even though a Brazilian judge had issued an order to seize Lochte's passport, along with those of swimmers Jack Conger, Gunnar Bentz, and James Feigen to prevent them from leaving until authorities could interview them. The other three actually did submit to interviews before booking it back to the states, though Conger and Bentz were removed from their flight before it took off to do so.
Aside from trying to get the facts straight in a case that has garnered international attention, Brazilian authorities are undoubtedly less than thrilled with Lochte for leveraging the country's reputation as the "murder capitol of the word" to try to weasel his way out of trouble or scrutiny for his bad decisions. For months before the opening ceremony, many questioned Brazil's ability to safely host the Games as news of violence in Rio de Janeiro, the Zika virus crisis, and heavily polluted waters dominated headlines.
Lochte's irresponsible antics certainly did nothing to win him any favor with the Olympic host country, although there will be no penalty for him not to report back there to appear in court, FOX News reported. If he were still in the country, though, he could face a punishment of up to six months in prison for submitting a false police report. As it stands, the 12-time Olympics medalist has lost some major endorsement deals as a result of this mess, including those with Speedo and Ralph Lauren.
But even amid accusations that he's the epitome of white male privilege because some attempted to excuse the swimmers' behavior as that of "kids," even though Lochte is 32, NBC recently announced he'd join the next season of Dancing with the Stars. Beyond that, it's impossible to know what's in store for Lochte, because the reasonable assumption that he'll do everything in his power to stay far, far away from Brazil.