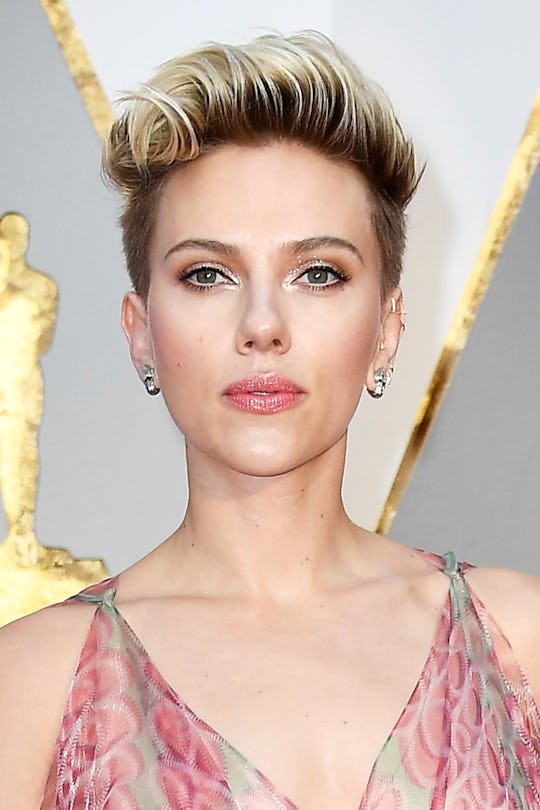 Frazer Harrison/Getty Images Entertainment/Getty Images
Scarlett Johansson Won't Share Divorce Details
On Tuesday, actress Scarlett Johansson filed for divorce from her husband, French art curator Romain Dauriac. While the news doesn't come as a surprise to some fans — the couple reportedly separated sometime during the summer of 2016 — that Scarlett Johansson said she'll "never" comment on her divorce does come as a bit of a shock. Given the invasive attention that follows Hollywood divorces, Johansson's reasons to not comment on her divorce are actually pretty refreshing.
In a statement to People Magazine, ScarJo explicitly stated she will "never, ever be commenting on the dissolution of my marriage." It's a pretty bold statement, but a necessary, preemptive move given the recency of Johansson's divorce filing on Tuesday in an effort to keep the question of "what happened between you and Dauriac" from coming up repeatedly. Here's Johansson's full statement on her divorce:
As a devoted mother and private person and with complete awareness that my daughter will one day be old enough to read the news about herself, I would only like to say that I will never, ever be commenting on the dissolution of my marriage. Out of respect for my desires as a parent and out of respect for all working moms, it is with kindness that I ask other parties involved and the media to do the same. Thank you.
Johansson and Dauriac were married in a "secret" wedding on Oct. 1, 2014, apparently just weeks after Johansson became a mom to a daughter, Rose Dorothy, who was born in September. Johansson spoke at the Women's March on Washington in January, where she was photographed sans wedding ring at the podium. Days later, People Magazine confirmed that Scarjo and Dauriac had separated over the previous summer.
In the wake of the all too-public divorce details from former couples like Brad Pitt and Angelina Jolie, Johnny Depp and Amber Heard — and going back a little further, Blake Shelton and Miranda Lambert — Johansson's statement that she would release no further details publicly about her divorce is a welcome change. Even more admirable is that ScarJo's decision not to comment publicly on her divorce isn't about herself: It's all coming from a place of protecting her young daughter.
Divorce is never easy — it's an immensely personal decision for a couple. Even though Johansson may be a public figure, it doesn't mean the intimate intricacies of her private relationships are subject to public scrutiny — regardless of whether she has a child, but especially so because she does.