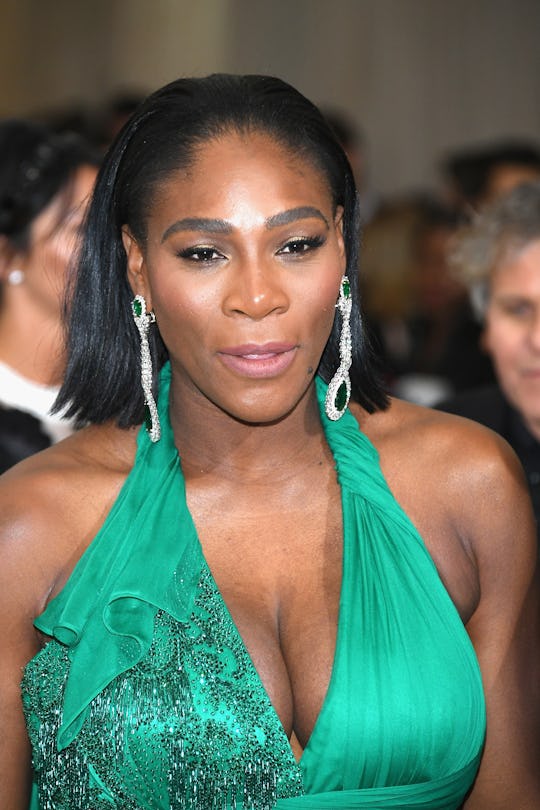 Dia Dipasupil/Getty Images Entertainment/Getty Images
Serena Williams' Postpartum Snapchat Makes This Superhuman Totally Relatable
Back in April, Serena Williams inadvertently announced to the whole wide world that she was pregnant via Snapchat, and since she's been religiously posting updates on the app ever since. By doing this, the tennis superstar has provided intimate, touching, and oftentimes hilarious glimpse into her pregnancy life, and now, her adventures as a brand-new mom. As literally everybody knows by now, the daughter Williams shares with her fiancé and Reddit cofounder Alexis Ohanian, Alexis Olympia Jr., was born Sept. 1. And now, Serena Williams' postpartum Snapchat is the ultimate modern (and, luckily for her many fans) public baby book. It's the early documentation of a champion raising another champion pretty much in real-time, and it couldn't be more endearing or entertaining.
If you're a Williams fan who, for some crazy reason, doesn't already following her on Snapchat, get on that ASAP. Download the app and cancel your dinner plans, because the fact that it's brimming with inspiration and heart and one of the most adorable baby faces off all time will have you glued to your phone. Just take the absolutely insanely cute video compilation that Williams and Ohanian shared with their followers across social platforms shortly after their daughter came into the world. Composed almost entirely of snaps, the video showcases many of the ways that the couple prepared for little Alexis Olympia from the time she was the size of a "blueberry" until she headed home from the hospital to begin her charmed life.
Key Snapchat scenes from the two-minute video include one of Williams kissing her Australian Open trophy with the caption, "No one knows I'm eight weeks pregnant," and a clip of Williams' moving tummy with a caption addressed to the soon-to-be baby: "You move at 10:15 or 10:30 every night." In another clip of a noticeably pregnant Williams dancing, the caption reads, "U can dance lol. Maybe too crazy though."
As the video shows, Williams' Snapchat love extended through much of her pregnancy. And she shared so many of those moments when they happened, too: When Ohanian turned out to not be the greatest swaddler at a baby class the two took together, Williams let her Snapchat followers know in a video breakdown. And not long before the baby was born, Williams settled in to give her daughter and Snapchat a crash course of "how athletes look at pregnancy." Drawing on her own belly with a Sharpie over her shirt, she hilariously offered the baby a play-by-by of what was up:
So, baby's head is here. Good job, you want to stay there. Spine somewhere in this region, and you have the feet somewhere maybe over here or maybe over here. Hands — I feel it punching — over there. Be focused when you come out. You want to sliiiiide out on the bottom.
Most recently, Williams posted a photo of herself on Snapchat wearing jeans shorts, noting that it has been just two weeks since she gave birth.
She also unveiled several images of the baby, including two that are on the newborn's very own Instagram account — so fans know that, between Williams' Snapchat and her daughter's Instagram, they'll get to see a whole lot of the newest addition to this little family.
In sharing her journey the way she is, Williams is creating an amazing digital document of her baby's life so far. It's kind of crazy to think that she only made her Snapchat account public in late 2015 because her fans really, really wanted her to. Since then, it's become quite the integral part of her life — and of that of all those who love her, too.
Watch Romper's new video series, Romper's Doula Diaries:
Check out the entire Romper's Doula Diaries series and other videos on Facebook and the Bustle app across Apple TV, Roku, and Amazon Fire TV.