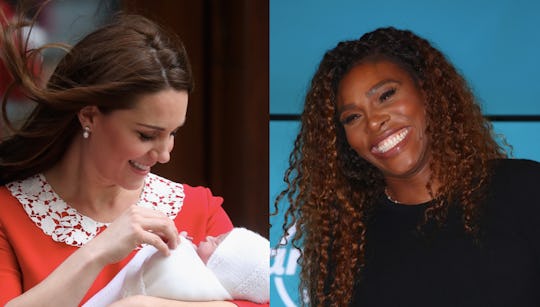 Chris Jackson/Getty Images Entertainment/Getty Images/ Clive Brunskill/Getty Images Sport/Getty Images
Serena Williams' Reaction To Kate Middleton Giving Birth To Royal Baby #3 Is ALL Of Us
On Monday, commoners and celebrities alike stared at screens in awe as photos of Kate Middleton surfaced. About seven hours after giving birth, the Duchess of Cambridge emerged on the hospital steps showing off her baby — as well as a gorgeous blowout, a custom-made dress, a fresh face of makeup, and high heels. And just like you, when Serena Williams saw the photos, she couldn't believe how flawless and well-rested Middleton looked. And Serena Williams had the best response to Kate Middleton giving birth, because she was in just as much wonderment as everyone else.
"I was really busy, but I saw the baby, and Kate was dressed, and I was like, 'Oh, maybe she had him a couple days ago,'" Williams told POPSUGAR in an interview, as reported by Marie Claire. "That's one heck of a woman! Let me tell you: I was not in heels [after I gave birth]. I thought she gave birth maybe two days before! Wow."
Williams' reaction pretty much sums up how most people felt about Middleton's post-birth look. "Kate Middleton looks better after having a baby just hours ago than I ever will," joked one Twitterer. "Kate Middleton always has these 'just had a baby this morning but still flawless' looks. Like she's wearing heels," tweeted another.
It's no surprise that Middleton's post-baby look would impress so many people — even the incomparable Serena Williams, who has 23 Grand Slam titles, four Olympic gold medals, and is regarded as one of the greatest tennis players in the world. Williams welcomed her first child on Sept. 1, 2017, along with her husband Alexis Ohanian: a daughter named Alexis Olympia. That being said, Williams did have some complications while giving birth that caused her and her daughter to have to stay in the hospital for a week after the birth.
Williams briefly discussed their prolonged hospital stay in a video that her husband shared in celebration of their daughter's birth. "So we're leaving the hospital after six, seven days? Six days? It's been a long time," she told the camera. "We had a lot of complications, but look what we got. We got a baby girl."
In January, Williams further opened up about her birth complications in an interview with Vogue. She had to deliver via emergency C-section, because her baby's heart rate became too low. Everything was then fine, until the following day, when a few small blood clots appeared in Williams' lungs. After doctors treated the blood clots, a coughing fit caused Williams' C-section wound to pop open. This meant she had to go in for another surgery, and during this procedure, doctors found a hematoma that had flooded her abdomen, requiring yet another surgery.
Williams' first few days after giving birth to her baby certainly looked different than Middleton's, considering the duchess got to leave the hospital just hours after her son came into the world. Regardless, all seems to be well with Williams and her daughter now — not to mention, there are plenty of people in awe of how quickly the tennis pro bounced back after giving birth. Less than four months Alexis Jr. was born, Williams played her first post-pregnancy tennis match, as reported by The Hollywood Reporter. Even though Williams didn't win, she was still proud of her performance. Following the match, she said:
I don't think I am going to rate my performance ... I have plenty of comebacks, from injuries, from surgeries, but I've never had a comeback after actually giving birth to a human being. So, in my eyes, I feel it was a wonderful, wonderful match for me.
And if anyone understands a pregnancy comeback, that'd be Serena Williams.
Check out Romper's new video series, Bearing The Motherload, where disagreeing parents from different sides of an issue sit down with a mediator and talk about how to support (and not judge) each other's parenting perspectives. New episodes air Mondays on Facebook.