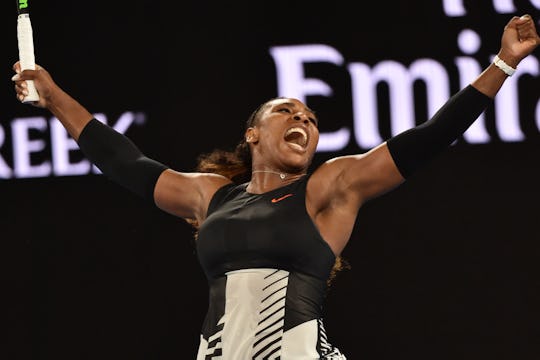 PAUL CROCK/AFP/Getty Images
Serena Williams Reveals The Epic Meaning Behind Her Daughter's Initials
There's pretty much zero doubt in anyone's mind that tennis superstar and one of the greatest athletes of all time Serena Williams' newborn daughter will inherit her mom's ability to dominate in sports and beyond. And the person who's the most sure that little Alexis Olympian Ohanian Jr. is destined for amazingness, it seems, is Williams herself. Case in point: Williams revealed what her daughter's initials stand for, and it's a definite shoutout to both the major accomplishments that have propelled Williams to worldwide fame and those to come. Above all, this hidden meaning behind the name of Williams and Reddit co-founder Alexis Ohanian's first child together is seriously so badass.
Almost as soon as Williams inadvertently announced that she was 20 weeks pregnant to the world via Snapchat, her discerning fans did some quick math and realized that she must have been about two months along when she'd won the Australian Open in January. Holy smokes, right? Well, get ready to have your mind blown, because Williams revealed on Twitter that she actually chose those "A.O." initials even more carefully than anyone thought to eternally recognize what she considers to be her baby's very first Grand Slam title.
"Fun fact my daughters initials are AO as in the Aussie open she won with me," she wrote on Twitter Thursday.
BOOM. MIND BLOWN.
Even before this bombshell, it was already apparent that the new baby, whom Williams and Ohanian welcomed on Sept. 1, has her legacy embedded in her name. Her parents bucked tradition by opting to give her the same first name as her dad, even affixing the "Jr." title usually reserved for boys to her name. And her middle name, Olympia, pretty much speaks for itself: Williams boasts no less than four Olympic gold medals.
But the fact that she won the Australian Open with her baby growing inside her is obviously an additional point of pride for Williams, because duh. In a video compilation of highlights from the pregnancy that Williams and Ohianian released after the birth, one clip shows her kissing her Australian Open trophy along with the caption, "No one knows I'm eight weeks pregnant." And at the end, that last item of the baby's "stats," so to speak, is the mic drop: "GRAND SLAM TITLES: 1" it reads under her name, birthday, and weight.
But when Williams first learned that she was pregnant just two days before the tournament back in January, she was "nervous" about competing while pregnant, as she told Gayle King in a TED Talk interview back in April, according to The Washington Post:
It wasn't very easy. You hear all these stories about people when they're pregnant — they get sick, they get really tired, really stressed out … I had to really take all that energy and put it in a paper bag, so to say, and throw it away.
In the end, though, she won the tournament as expected — an achievement that's perhaps one of the most notable of her many, many achievements to date. After all, she's now won 23 Grand Slams and twerked in a Beyoncé video — so Williams obviously just knows that her daughter is going to grow up to mirror her awesomeness. That's one of the reasons why it's so unbelievably cool that she decided to insert that hidden symbol into her daughter's very name — yup, as her very first accomplishment, that'll be tough to top.
Alexis Olympia Ohianian Jr. obviously has great things coming her way. In that way, her name is somewhat of a self-fulfilling prophecy. So, congratulations are in order for Williams and Ohanian for the making of a future champion.
Watch Romper's new video series, Romper's Doula Diaries:
Check out the entire Romper's Doula Diaries series and other videos on Facebook and the Bustle app across Apple TV, Roku, and Amazon Fire TV.