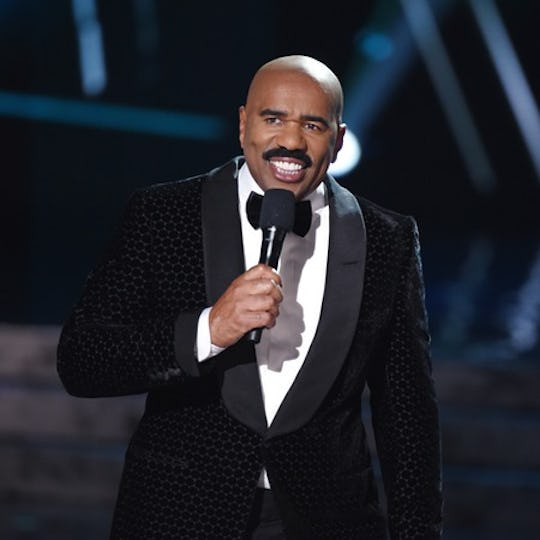 Getty Images
Steve Harvey's Christmas Instagram Poked Fun At His Miss Universe Gaffe
By now you've no doubt heard about the epic and infamous 2015 Miss Universe blunder, in which Steve Harvey named the wrong winner. The Internet definitely hasn't forgotten and, well, neither has Steve. On Christmas Day, Harvey made fun of himself with an hilarious Instagram post, wishing everyone a "Merry Easter" and reminding us that the best way to tackle a gigantic mistake, is head on and with large dose of humor.
On Sunday, Dec. 20, the 63rd annual Miss Universe Pageant was hosted by Harvey, who accidentally named Miss Colombia (Ariadna Gutiérrez-Arévalo) the winner, when she was, in fact, the first runner-up. After Gutiérrez-Arévalo was crowned, given a sash and an over-sized bouquet of flowers, Harvey slinked back to the middle of the stage to right his wrong and name the rightful winner of the pageant, Miss Philippines (Pia Alonzo Wurtzbach).
The result was, arguably, the most awkward five minutes of television, in which Miss Colombia was de-crowned and Miss Philippines was rightfully crowned, all while the two stood side-by-side. Harvey was quick to take full responsibility for the mistake, even turning his announcer's card around so the camera could zoom in and see that, in fact, Miss Philippines was the rightful winner and Harvey just misspoke.
Let me just take control of this. This is exactly what's on the card. I will take responsibility for this. It was my mistake. It was on the card.
Of course, that didn't stop the Internet from making fun of Harvey, the situation, or the Miss Universe Pageant itself. Regardless — and perhaps because Harvey didn't shy away from taking the blame — the Miss Universe Pageant has asked Steve Harvey to host again. We'd like to think it is his professionalism and sense of humor, in the face of overwhelming scrutiny, that has something to do with it, too.
iamsteveharveytv: Merry Easter, y'all!
Of course, one can't help but notice the humungous mansion Steve is posing outside of, with an infinity pool in the background and a (I'm assuming expensive) cigar in his mouth. Something tells me that being the butt of the joke doesn't phase the ridiculously successful television personality. Not. One. Bit.
So sure, Steve might have trouble reading the correct names on an announcer's card in front of millions of people from time to time, but he definitely doesn't have a problem humbling himself to the point of hilarity for our benefit (or his). Good on ya, Steve, and Merry Easter!
Images: Ethan Miller/Getty iamsteveharveytv/Instagram