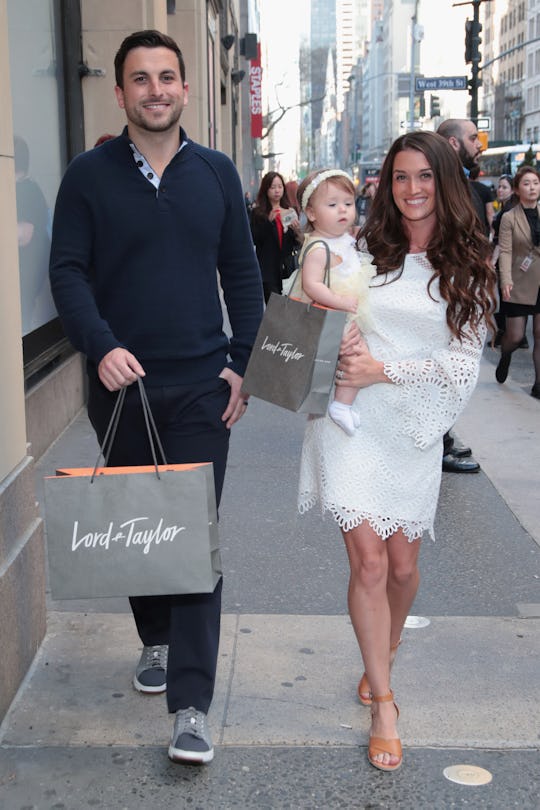 Cindy Ord/Getty Images Entertainment/Getty Images
'BiP' Alum Tanner Tolbert Has Some Really Great & Laid-Back Plans For His First Father's Day
For all the cynics out there who can't imagine anyone actually finding true love in Bachelor Nation, remember that there are a handful of couples celebrating Father's Day this weekend after meeting on one of the franchises and starting families. And they're doing it well, too. For example, Bachelor in Paradise's Tanner Tolbert's Father's Day plans with his wife Jade Roper and his daughter sound super relaxing.
Roper and Tolbert tied the knot on Bachelor at 20 in 2016 after appearing on Chris Soules' season and Andi Dorfman's season, respectively. They fell in love in paradise and welcomed their first child, daughter Emerson, last fall. So this is Tanner's first Father's Day, and he plans on doing it right. The 31-year-old reality star told People that he was "getting breakfast in bed" and then "hanging by the pool with Emmy" all day. Afterwards, as he told People, he and Jade plan on having a romantic dinner date while grandma babysits the kid. Not a bad way to spend the weekend at all.
By this time next year, their household could be a little more chaotic. In April, Roper told People that they were "low-key" trying for another kid. Tolbert chimed in that they weren't trying to rush into anything but they they weren't "not not trying."
Tolbert is still getting used to the whole dad thing, according to a joint interview the couple did last month with Us Weekly about their parenting tips. The car salesman admitted that he shoots to help out with diapers at least "once a day" but that he "slacks" sometimes. Then again, he also shared that he's been puked on "countless times," so don't go in on him for skipping diaper duty. Every parent has a specialty, right?
Tolbert also admitted in the same interview with Us Weekly that his dad trick for getting an infant to snooze is to "hand her to mom." "That's the dad secret," he joked. And to make use of the good swag they got at the baby shower. Tolbert explained that the best gift they got was also a stand in for having to hold Emmy all day long. According to Us Weekly, he said:
Honestly, the thing that saved our lives. It's, like, a toy jumper. Sometimes when she's being crazy, it's the only thing that will calm her down. It's easy because you don't have to hold them 24/7 in it.
The Tolberts definitely seemed to have worked out a system. Although he posts pics on social media all the time of his baby girl, Tolbert doesn't often open up too much about being a dad. His wife, though, posts often about how their lives have changed on Instagram. When Emmy was born, Roper posted a picture of herself breastfeeding with the caption:
Nothing has ever felt more right and more natural than taking care of my little girl. Becoming a mother hasn't felt like some huge, transformational moment for me (besides giving birth haha). Instead, it feels like she's always been here somehow, like she has always been a part of me — almost like I don't know how yesterday existed without her. It's amazing how you can love someone so much, I now get the privilege of understanding a mother's endless love.
Even if he's not the best diaper-changer, Tolbert definitely seems to always be having a good time with his daughter, judging from his social media posts, at least. Which is really the most important thing at the end of the day. After barely even a year of daddy duty, a big family breakfast in bed, splashing around in the pool and catching some sun, and then a romantic evening with his wife sounds like a perfect way to spend his first Father's Day. When it comes to relaxing, Tolbert definitely knows what he's doing.