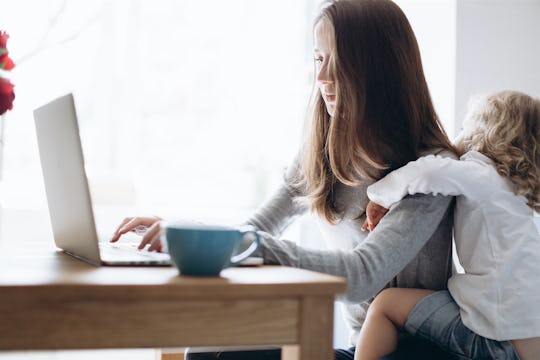 briagin/Fotolia
That Whole "Work-Life Balance" Thing? Yeah, That's A Myth. Here's Why.
For a parent who works outside, and even inside, the home, the promise of work-life balance is magical. I mean, of course I want to have a perfect parity between my career, my family, and my social life. Of course I don't want to feel like I'm ripping at the seams every minute of every day. Of course I want harmony. Who wouldn't? It turns out, though, that the whole work-life balance thing a myth; a fantasy conjured up by someone who enjoys lying, apparently. Because when I was expecting to experience some kind of "balance" in my life as a working mom, I was laid-off shortly after I had my first child. And while it was a very difficult time for my family, I was fortunate enough to not have to juggle my career and take care of an infant. Eventually, however, I did find work, and my life became increasingly difficult to manage.
My position ended right as I was midway through my pregnancy with my second child. My contract was up in January and I was due in April, so I decided to hold off on applying for positions until after I had my son. Unfortunately, and fortunately, I couldn't find a position until my son was close to 14-months-old. At that point I was a mother of two and working full-time outside of the house. My commute, each way, was about one hour and 45 minutes, so I spent almost four hours of my daily life commuting. The company I worked for promised flexibility and a "great work-life" balance. In fact, they prided themselves on providing what has now become a "buzz word." But, very quickly, I found out that their flexibility wasn't all that flexible, and when I asked to work from home a few times I was accused of taking advantage of the company's "understanding." Humorously enough, some male employees had scheduled work-from-home days every week. I guess they weren't taking advantage, though.
In any case, work-life balance never really felt like a balance to me. Instead, it felt like a constant compromise that always left me feeling guilty. I was always giving up something: my time, my happiness, my sanity. So, unless you work for a super awesome company that let's you work from home whenever you wish, without giving you a side-eye every time you do, work-life balance is nothing more than a myth, and for the following reasons: