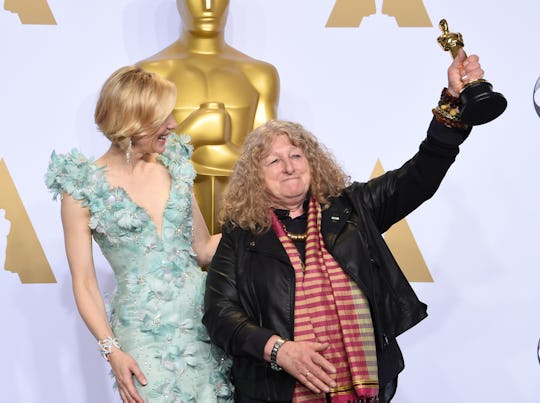 FREDERIC J. BROWN/AFP/Getty Images
The 2016 Oscars Were The Most Feminist Yet, But There's Still A Long Way to Go
The 88th Academy Awards were unlike any other, and it wasn't just the controversy surrounding the lack of diversity at the Oscars (and Hollywood) that seemed to change the show. This year's Oscars were feminist, arguably more so than any other year, and still the Academy has a way to go before gender equality is as visible as the latest, most fashionable and show-stopping gown.
While there were many feminist moments that were not only powerful, but capable of provoking real, necessary change, there were many moments that reminded viewers that the Oscars weren't feminist enough. Mad Max — a clearly feminist film that destroys the age-old narrative of a man saving a woman — cleaned up at the Oscars, taking home six awards for everything from costume design to visual effects. This robust celebration of a feminist film is worth noting, but so was the number of males who took the stage after Mad Max won in any given category. Costume designer Jenny Beaven stole the show in her scarf and jacket when accepting the award for her amazing costume work, but she was one of the few women who seemed to be behind the film. The absence of female writers, producers, directors, producers, and other behind-the-camera roles, is an ongoing problem in Hollywood, clearly highlighted by Mad Max's Oscars success.
There was also Vice President Joe Biden's public pledge to help prevent sexual assault and Lady Gaga's powerful performance of "Til It Happens To You." Gaga sang the heartfelt, gut-wrenching song as sexual assault survivors took to the stage, showing their arms with words like, "It's not my fault" written for the audience, and viewers everywhere, to see. To have a public, powerful conversation about sexual assault, and the need of everyone — women and men — to come together and work to create safe, consensual environments, was nothing short of phenomenal. In fact, Biden's pledge crashed the ItsOnUs.org website, as people across the country logged on, scrolled down and vowed to take the pledge to help end sexual assault. It was a feminist moment for the ages, and may go down as one of the most important moments of any Academy Awards.
But, sadly, Lady Gaga didn't win an Oscar for her song "Til It Happens To You" written for the vital documentary The Hunting Ground, detailing campus rapes across the country. To give such a coveted award to a song that highlighted what 1 in 3 women and an unknown number of men will, sadly, experience in their lifetime, is the final step the Academy Awards just couldn't seem to take.
And lastly, there was Chris Rock's incredible monologue. While the comedian pulled no punches addressing systemic racism and lack of diversity in both the Oscars and Hollywood, he also took the time to poke fun at #AskHerMore, the campaign established during the 2014 award season by The Representation Project that urges reporters and television hosts to ask actresses more than just "who are you wearing?" Rock seemed to think that #AskHerMore was nothing more than an excuse to complain.
You're not allowed to ask women what they're wearing anymore. It's a whole thing, 'Ask her more.' You have to 'ask her more.' It's like, you ask the men more. Everything is not sexism, everything is not racism. They ask the men more because the men are wearing the same outfits. Every guy is wearing the exact same thing. If George Clooney showed up with a lime green tux and a swan coming out of his ass, someone would go, 'Hey, what you wearing George?'
It's disheartening to hear a grown man, especially one who has almost certainly experienced discrimination at some point in his life — not recognize how inherently sexist it is to subject female actors to unending, boring questions about their clothes that perpetuate the idea that they are there for decoration rather than artists and equals. It's sad that, while this Oscars seemed to be (by far) the most progressive in terms of social discourse, it still failed to reach the feminist heights it's capable of.
Then again, considering the other problems the Academy seems to consistently face (racism, lack of diversity, minimal inclusion) it's unfortunate, but not surprising, that sexism continues to be an issue, too. At least this year was the best yet for women at the Oscars, and hopefully the message about race and exclusion will prompt more inclusivity and fairness in the Academy across the board.
Maybe next year?