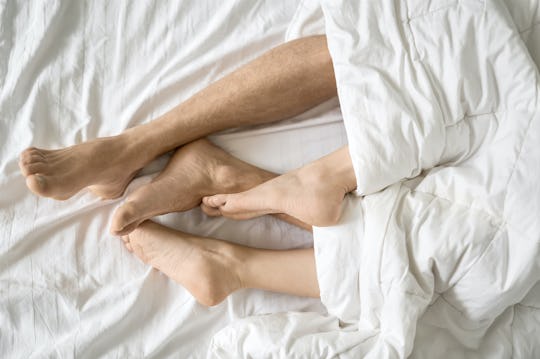 Andriy Bezuglov/Fotolia
The Dads Of Reddit Reveal How They Really Feel About Sex & Marriage Postpartum
Reddit can be a strange and unusual place, can't it? It's full of rants and a fair share of dirty secrets, but it also provides a platform for users to show solidarity and an immense amount of kindness to relative strangers strangers. Enter throawaydad88888, who recently turned to Reddit to ask, "Has anyone ever felt regret of being a dad?" and was met with a slew of responses from other dads who reveal how they really feel about sex and marriage postpartum. Many other dads who commented have felt the same unsettling, doubtful feelings, and, as a result, wanted to encourage this struggling new dad. Their main message? It does, indeed, get easier. You just have to be willing to fight for it.
One of the most cutting lines in throawaydad88888's post was a very bare moment, on which he confesses the following:
"I miss my past life. I miss our past relationship. I miss my wife, and I feel she is no longer who she used to be, now is her mum."
I think we, as new parents now responsible for other human beings, all felt or thought some version of the aforementioned thought. Becoming a dad or mom represents a total shift in priorities, and that shift can be difficult to grow accustomed to seemingly over night. And while, yes, new parenthood looks differently for different people, I would say we all experience a set of unique difficulties, one way or the other.
The overall take from the dads of Reddit is that postpartum life is tough, but it does get better so long as you don't throw in the towel. And nearly all of these Reddit dads agree: when your kid can say "dada," that's a turning point!