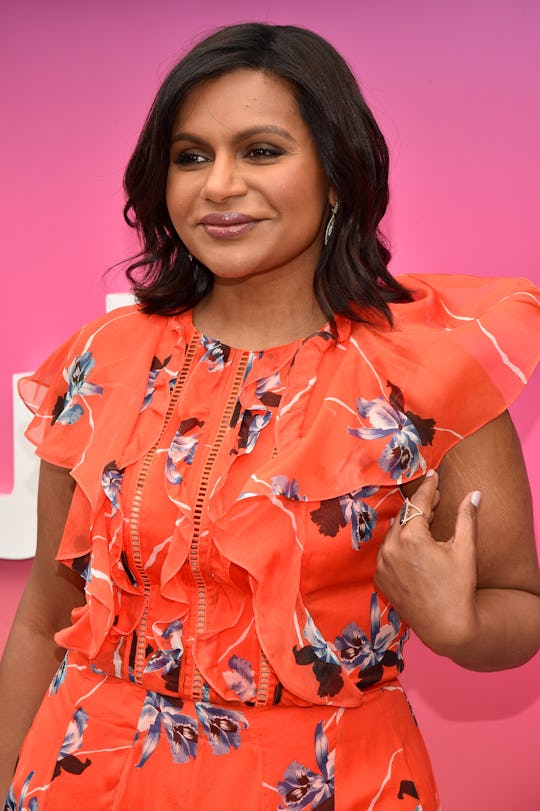 Bryan Bedder/Getty Images Entertainment/Getty Images
The Middle Name Mindy Kaling Chose For Her Daughter Is So Special
On Tuesday, news broke that little Katherine Kaling had entered the world, and it's a huge freaking deal for so many reasons. First, of course, is the fact that the baby girl's mom is none other than actress/comedian/author/producer/everybody's dream BFF Mindy Kaling. And then there's her name itself, which encompasses both a feminist statement as well as a touching tribute to Kaling's own mom, because the middle name Mindy Kaling chose for her daughter, Swati, is that of her grandmother. Kaling has frequently lauded Swati Chokalingam, who died in 2012, as an inspiration for her work, a devoted mother, and even her "soulmate," and now her legacy will live on in her granddaughter, Kaling's first child.
Soon after reports started to circulate that Kaling — who you know and love for her work on The Office, The Mindy Project, and about a million other projects — was pregnant in July. But when Kaling herself first confirmed the news in an interview the next month (that is, after Oprah spilled the beans) she also shared that she wants to emulate aspects of her own mom's mothering style. Speaking with TODAY's Willie Geist in August, Kaling said:
My mom was incredibly fierce and so devoted to us, just loved us and really wanted us to be happy no matter what we did. My career choice was not something that she was familiar with and she was just so supportive of that. And if I could give that to my child, just that open-mindedness, I'd be so happy.
In fact, Kaling told InStyle magazine in 2015 that, although she wasn't exactly married to the idea of getting married, she knew for a fact that she wanted to have kids because her relationship with her mom was "so special." That makes it all the more heartbreaking that she died of pancreatic cancer before she ever got to meet the baby who would become her namesake, Katherine Swati.
Still, this is not the first time that Kaling has channeled her mom in her professional or personal life. For example, Dr. Mindy Lahiri, her character on the Hulu sitcom The Mindy Project — which Kaling wrote, produced, and starred in — was an OB-GYN, just like Kaling's Indian immigrant mother was. Any fans of Kaling's know that it's absolutely no surprise that Kaling has done so much to pay tribute to her mother after her death. In a January 2015 interview with Good Housekeeping, she said that "the single best thing" she inherited from her mom is "her no-nonsense attitude." And that's not all. "My mom was my soulmate," she shared in the same interview.
There's another aspect of Kaling's baby's name that has people talking as well. Kaling has elected not to make public the name of the father of her baby, and she even omitted the information from the baby's birth certificate, according to Page Six. As a result, little Katherine Swati has her mom's last name. Which is pretty freaking lucky for her, considering what an outrageously accomplished woman Kaling is: In the very same week that she gave birth on Dec. 15, she also earned a spot on the coveted cover of TIME magazine ahead of the release of the Ava DuVernay-directed film A Wrinkle in Time. Additionally, the first trailer for Ocean's 8, in which she stars alongside Cate Blanchett, Anne Hathaway, and other badass women, wowed expectant audiences just before news of the baby's birth reached the public.
So, with names such as "Swati" and "Kaling," Katherine already carries in her name the promise that she will do great things. With a mom and grandmother like the ones she has, how can she not?
Check out Romper's new video series, Romper's Doula Diaries:
Watch full episodes of Romper's Doula Diaries on Facebook Watch.