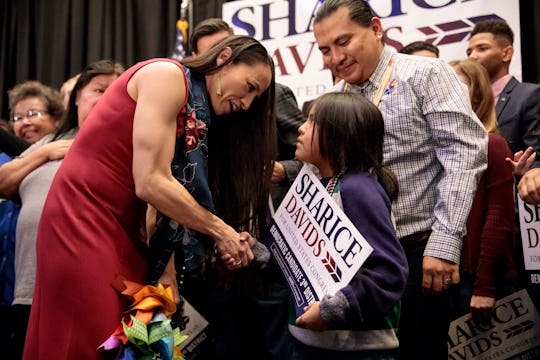 Whitney Curtis/Getty Images News/Getty Images
5 LGBTQ Parents Share What The "Rainbow Wave" Means To Them & Their Families
Representation matters. It's literally the foundation of our political system, and helps ensure equal protection of the law. The LGBTQ community, however, hasn't really been represented by those elected to serve the American public in office, especially in a way that's indicitive of the number of LGBTQ Americans. That's starting to change, though. The 2018 midterms brought in a "rainbow wave" that swept across the country, ushering in new elected politicians that better represent the country and LGBTQ community. And, as you can imagine, that wave is impacting LGBTQ parents, who can finally have more hope about the future and the chances that all of us, regardless of how we identity or who we love, can feel equal under the law and in the eyes of our elected officials.
According to the Victory Fund, the 2018 midterm elections brought a rainbow of unprecedented diversity, with 225 LGBTQ candidates running — including those who identify as gay, lesbian, bisexual, pansexual, transgender, intersex, and gender non-conforming — for a variety of local, state, and federal offices across the country.
A reported 151 LGBTQ candidates won their elections, too. Like Kate Brown, (D-Ore.), the country's first bisexual governor, and Tammy Baldwin, (D-Wis.), the first LGBTQ senator, who were re-elected, and Jared Pollis, (D-Col.), who became the first gay man in the country to be elected to serve as Governor, according to HuffPost. Sharice Davids (D-Kan.) not only became one of the two Native American women elected to Congress for the very first time, but will be the first openly LGBTQ person to represent Kansas, according to Time. According to HuffPost, Angie Craig (D-Minn.), who identifies as a lesbian, defeated anti-LGBTQ GOP Representative Jason Lewis to became the first openly gay person elected to Congress in Minnesota, proving that love does, in fact, win.
So while the so-called "Blue Wave" fell somewhat flat and failed to secure the Senate for the Democrats, LGBTQ candidates won ground-breaking elections all over the country. Like single mom, reproductive rights activist, and small business owner Megan Hunt, who was the first openly LGBTQ woman ever elected to the Nebraska Legislature, and Adam Spickler, elected to the Cabrillo College Board of Trustees, making him the first trans man elected to public office in the state. With the Trump Administration's attempts to remove protections members of the LGBTQ community, these historic wins brought needed hope to some LGBTQ parents. Here are some of reflections about what the rainbow wave means to them: