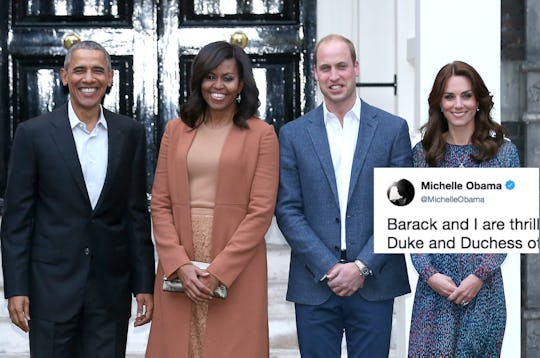 Chris Jackson/Getty Images News/Getty Images
Grab The Tissues, Because The Obamas Had The *Sweetest* Response To Royal Baby #3's Birth
On Monday morning, Kensington Palace announced that Kate Middleton gave birth to her third child and all day long, the world has been congratulating the family on its latest addition. So far, the Obamas' response to Kate Middleton giving birth might just be my very favorite, though. It's not just a cute way to acknowledge the little one, but also references one of the cutest pictures of Prince George ever taken.
Back in 2016, the Obamas hopped across the pond to meet the royal family. According to TIME, then 2-year-old Prince George was "allowed to stay up late" to meet Michelle and Barack Obama. But that doesn't mean he wasn't going to be as comfy as possible while doing it. Luckily, there were photographers on hand to catch the little prince greeting President Obama wrapped up in the sweetest, fluffiest robe. He reportedly also showed off a rocking horse that the Obama family brought the little guy. Because of course they did.
Anyway, back in 2016, people couldn't get enough of the image of Obama kneeling down to meet the regal toddler donning a bathrobe. When Prince George was born in 2013, the Obamas said in a statement, "Michelle and I are pleased to congratulate the Duke and Duchess of Cambridge on the joyous occasion of the birth of their first child. We wish them all the happiness and blessings parenthood brings."
Michelle had a similar sentiment this time around for baby number three, and recalled the now iconic moment she and her husband met the eldest royal baby, writing, "Barack and I are thrilled to congratulate The Duke and Duchess of Cambridge on their newest arrival! We hope to meet him soon for a Kensington Palace pajama party. I'll wear my robe!"
How do I get an invite to that pajama party? Because hanging out with Michelle, Barack, and those cute little royal babies would be a blast. Also, I'm assuming tea and cake is involved at some point, so that's always a bonus.
All jokes aside, the Obamas appear to have a very close relationship with Prince William and Prince Harry, along with their families. Not only was there the official presidential visit in 2016, Prince Harry interviewed the president and hung out with him at the Invictus Games last year, too. Judging from the pictures, the love is very real between the two families — it's not just for the cameras and the press.
Which is why it was kind of sad to hear that the Obamas won't be able to attend Prince Harry and Meghan Markle's wedding next month, where they could ostensibly meet the newest royal baby. In order to not have to invite the foreign leaders that they might not really like just because they invited the ones they did want at the celebration, Prince Harry and Markle opted to not invite any political leaders, according to CNN, the Obamas included. A spokesperson for the palace told the news outlet:
It has been decided that an official list of political leaders —both UK and international — is not required for Prince Harry and Ms. Markle's wedding. Her Majesty's Government was consulted on this decision, which was taken by the royal household.
Even if they aren't invited to the royal wedding this year, it's likely that the Obamas, Prince William and Middleton, along with Prince Harry and Markle will cross paths again one day. In Obama's interview with Prince Harry, as Deadline reported, he said that he was "obsessed" with training future world leaders, Princes William and Prince Harry included, probably. Obama said, according to Deadline, he's focusing on "training the next generation of leaders to be able to make their mark on the world. When you're in politics directly, then you're a player on the field… Now I'm making that transition, to some degree, as a coach."
The Obamas, much like the two royal brothers, are very service oriented and dedicated to making the world a better, happier place. Whether that's throwing a royal sleepover or meeting up with Prince William and Prince Harry to talk shop privately in the coming year, they'll definitely all hang out again. And I really hope everyone wears their robes, no matter what. Better to be comfy, when meeting the future kings and queens of England.
Check out Romper's new video series, Bearing The Motherload, where disagreeing parents from different sides of an issue sit down with a mediator and talk about how to support (and not judge) each other's parenting perspectives. New episodes air Mondays on Facebook.