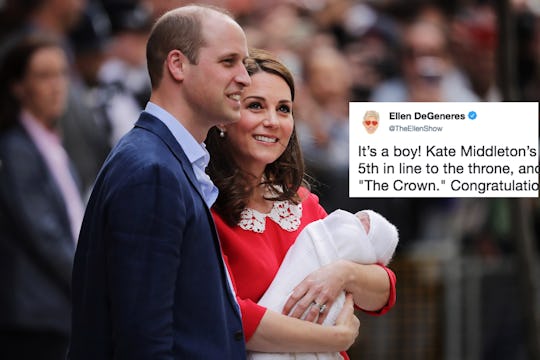 Dan Kitwood/Getty Images Entertainment/Getty Images
These Celebs Are Having So Much Fun Celebrating The Birth Of Royal Baby #3
There's so much bad news out there these days that it's hard to know what you're going to get when you wake up and start scrolling through your feeds. So the news that Kate Middleton had given birth to her third child on Monday morning was definitely a welcome surprise. It seemed like the whole world was watching, and the celeb reactions to the royal baby's birth are definitely evidence that no one is immune to some exciting baby news.
Middleton was admitted to the Lindo Wing at St. Mary's Hospital in London around 8:20 a.m. on Monday morning in the "early stages of labor," according to The Telegraph. Everything moved quickly — just hours later she and Prince William were on the steps of the hospital, showing off their healthy baby boy (no name has been announced yet) to the world. The infant is going to be the fifth in line to the throne, just after his siblings, Prince George and Princess Charlotte.
On social media, pretty much everyone was thrilled to hear the news, and a little surprised how quickly it all went down. Most people not only marveled at the cute newborn, but also Middleton's ability to get up, dressed, and pose for pictures so soon after giving birth. "I just wanna know how Kate Middleton is able to wear high heels after giving birth a couple of hours ago- much less leave the hospital bed," one Twitter user wrote, speaking for so many of us.
Celebs Wanted In On The Fun, Too.
Prince William wasn't having as much fun as everyone on social media was, jokingly noting to reporters that he and his wife were "thrice worried now," which is sort of adorable. Then, in his very polite way, added, "We're very happy. We're delighted. Thank you." When asked about his youngest son's name, the prince teased, "You'll find out soon enough. We didn't keep you waiting too long."
He has a point — just hours after news broke that Middleton was headed to the hospital, the family succumbed to photographers and reporters' questions. Let's give the couple some time to take a nap and then get back to the world about a baby name, right? New parents, even royal ones, have a lot on their plate without having to answer to us common folk. Although judging from the tweets above, comedian Sarah Silverman has already come up with some decent monikers to choose from.
Strict royal baby protocol was followed to announce their third child's birth, according to Hello! Magazine. First, the queen was notified that a healthy baby was born. Only after the queen was informed of the news did the couple get to call their parents and immediate family members. For baby Charlotte, the couple announced the news in a similar way, just hours after she was born, according to the same outlet. For their first child, George, the royal couple took an entire day before they decided to get in front of the cameras and send out an official announcement.
There were a lot of similarities like that with all of Middleton's pregnancies, some easier than others. Shortly after announcing her pregnancy back in September, Kensington Palace announced that she was suffering from hyperemesis gravidarum, which is an extreme form of morning sickness that including nausea, vomiting, losing weight, and becoming dehydrated.
Middleton had the same thing with both of her other pregnancies, according to E! News and was even hospitalized each time, according to TODAY. All women are tough, but Middleton has definitely been through it with each one of her children, and still manages to keep up with all of her royal duties. Including being all smiles and camera-ready just after giving birth, much to all of our delight. Even busy celebs.
Check out Romper's new video series, Bearing The Motherload, where disagreeing parents from different sides of an issue sit down with a mediator and talk about how to support (and not judge) each other's parenting perspectives. New episodes air Mondays on Facebook.