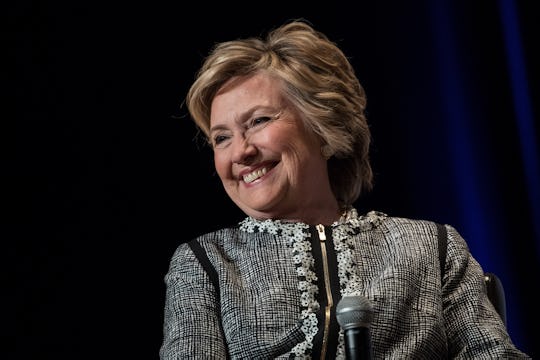 Drew Angerer/Getty Images News/Getty Images
These Hillary Clinton 'What Happened' Memes Perfectly Sum Up The Internet's Post-Election Feelings
On Thursday, former presidential candidate and Secretary of State Hillary Clinton released the title of her forthcoming memoir about the 2016 presidential election. Publisher Simon & Schuster announced that Clinton's book, What Happened, will be available on Sept. 12. As vague and open-ended as the title might be, it immediately began trending on Twitter, leaving many to offer their own savage commentary about the 2016 campaign. Some of the Hillary Clinton What Happened memes were more biting than others, but they all basically addressed the frustrations of millions in the wake of electing Donald Trump as America's 45th president.
According to The Washington Post, Simon & Schuster shared a few brief lines from the book's introduction, written by Clinton: "In the past, for reasons I try to explain, I've often felt I had to be careful in public, like I was up on a wire without a net. Now I'm letting my guard down."
When Clinton spoke in May at the Women for Women event in New York City, she blamed misogyny for her presidential election loss — and she's not wrong. At that same speech, Clinton also pointed the finger at former FBI Director James Comey's letter just days before the election as another key factor in her devastating loss. With this new memoir, Clinton will have the chance to lay out her entire case in her own words and on her own terms.
But on Twitter, folks had their own answers to #WhatHappened — in decidedly pointed meme form.
No, Seriously — WTF Happened
I, like so many other progressives who sobbed on election night, asked myself this question repeatedly in the hours following the news that Clinton had conceded to Trump. There really was no single or easy answer as to why the election was so close — but Twitter sure tried to sum it up by offering their own reasons for "what happened."
Those Damn Emails
Yeah, this one stings, but there's no denying that the ongoing investigation into Clinton's emails stored on personal server while she served as Secretary of State plagued her entire campaign.
But What Does Actor James Wood Think?
Sick burn, bro. *eyeroll*
States That Should Not Have Been Swing States
Michigan shouldn't have been a swing state, and yet Clinton's loss in the state was basically the final nail in her campaign's coffin on election night. Clinton's lack of campaigning in Michigan at critical moments in the campaign were, according to POLITICO, a large part of why she lost.
Remember Carlos Danger?
The Comey letter may have gotten a ton of hype as the lynchpin in Clinton's Election Day downfall, but don't forget that former New York congressman Anthony Weiner certainly didn't help in the weeks leading up to the election, either. More specifically, an investigation into Weiner sexting a 15-year-old girl is what didn't help, as it was emails about the allegations that triggered the FBI to reopen the case into Clinton's emails, the catalyst for Comey's letter.
All The Reasons
Honestly, the 2016 presidential election was such a complete cluster that there really were almost too many reasons to count. This conservative Twitter user managed to jot down most of the list of possible reasons, including of course, Russia and its president, Vladimir Putin.
Speaking Of Russia...
Let's not forget that there is currently an investigation — by multiple government agencies at once — about Russian collusion into the election. It'll be interesting to see what Clinton will release about what she and her campaign might have known during the election itself.
Girl, Preach
One Twitter user offered a suggestion for the first line in Clinton's book, and I would straight up buy multiple copies if this actually happened.
Perhaps It Was A Mighty Wind
You either get this joke, or your don't — but it would be amazing if Clinton made mention of her "little wed wagon" in her new book.
Who Knows
The Daily Show definitely sums up the entire response to "what happened" the best: Honestly, who knows — but the world will get to hear it straight from Clinton herself on Sept. 12 when her tell-all book drops. I, for one, cannot wait to read her take on one of the most confounding elections in American history.