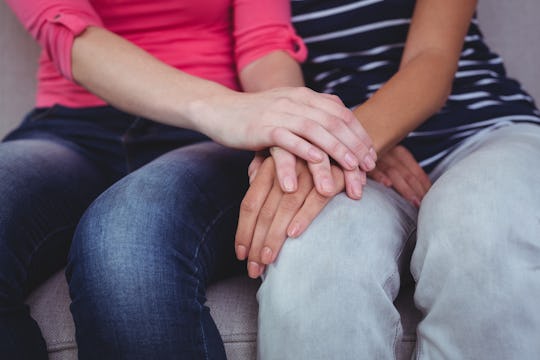 Fotolia
Things Would've Been Different If I'd Said These 9 Things To My Friend With Post-Baby Anxiety
For me, one of the most difficult parts about postpartum anxiety was talking about it. I just didn't know how. I was constantly worried — about my baby, that something horrible would happen, that I was a bad mom — but I didn't want to tell anyone. I just knew people would judge me. When I found out my friend had postpartum anxiety, too, I didn't know how to talk to her about it, either. Looking back, there are so many things I wish I said to my friend with postpartum anxiety. After all, I've been there. I just didn't know where to start.
It probably would have been best to begin a necessary conversation by telling my dear friend that I was worried about her. When I had postpartum anxiety (PPA), I thought what I was experiencing was just "normal" new mom stuff. I didn't know it wasn't normal to sit awake at night staring at my newborn, worrying that they might stop breathing the moment I closed my eyes. Or to obsess over wet diapers, ounces of breast milk, or diaper rashes. I didn't realize it wasn't normal to obsess about what might happen if we left the house, which kept me inside, alone, and isolated.
I also wish I had told my friend there's help waiting for her; that she didn't have to suffer; that enduring internal pain isn't the benchmark of good parenting. I knew, from experience, that therapy and medication can really help. I knew how helpful calling your doctor or mentioning how you feel during your postpartum appointment could be. Not only did these help me deal with my anxiety in a healthy way, they also helped with physical symptoms like insomnia, loss of appetite, restlessness, and dizziness, too. I wish I could have been brave enough to talk about my own anxiety, so I could have ended up helping my friend face her own.
Mostly, I just wish I had told her that I was holding space for her. I didn't need her to need me or to be ready to get help or talk about her anxiety if she wasn't feeling up to it. I just wanted her to know that if she needed to unload, wanted advice, or just wanted to sit in silence without having someone expect anything of her, I was there. I wish I had spoken up. I wish I had said the following things: