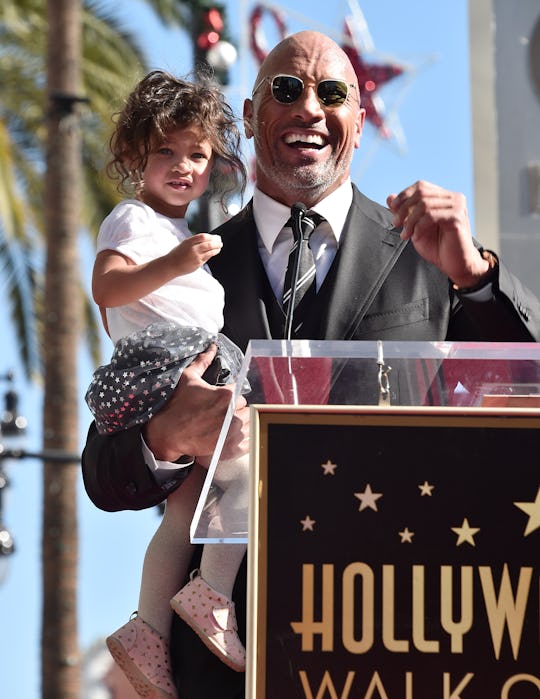 Alberto E. Rodriguez/Getty Images Entertainment/Getty Images
Cool Dad Dwayne "The Rock" Johnson Let His 2-Year-Old Daughter Paint His Nails — PHOTO
The Rock is a busy man — but if he's going to let anything get in the way of his overloaded work schedule, it's quality time with his kids. Over the weekend, he shared an absolutely adorable photo of himself and one of his daughters to Instagram that proves it. In fact, Dwayne Johnson's photo of his 2-year-old painting his nails (and the accompanying caption) shows just how down-to-earth of a dad he is.
On Friday, Johnson Instagrammed a photo of himself sitting at the kids' table in his home, as People reported. His hand is delicately resting on the tiny table, and his daughter Jasmine, who will turn 3 in December, is painting his nails red. Alongside the photo, The Rock recounted the conversation that led up to his fabulous manicure. "Come here baby, give daddy a kiss I gotta go to work," he told Jasmine, who he called Jazzy in the post. "But daddy you need your nails painted," Jasmine told him.
He tried telling her again that he had to go to work, but then she looked up at him "with her mama's gorgeous blue eyes," and told him, "No daddy you really need your nails painted." The blue eyes were evidently enough to convince Johnson that his baby girl was onto something. "Yes, you're absolutely right - daddy needs his nails painted," he told her, adding the hashtags #PapaBearPriorities and #NoRemoverNeeded 💅🏾.
Most adults probably don't want to go out in public with a sloppily-applied manicure, so it's sweet that Johnson acquiesced to his toddler — and even declared that no remover was needed. Sure, maybe no remover was used in the moment, but about 24 hours later, The Rock Instagrammed a photo of himself walking on what looked like tarmac at an airport, with no nail polish in sight. "Eagle has landed — 🦅🇬🇧 LONDON," he captioned the shot. Oh well. All manicures have to end sometime, no matter how bomb they look.
In addition to Jasmine, Johnson and his girlfriend Lauren Hashian also share 5-month-old Tiana, who they welcomed in April. Johnson also has a 17-year-old daughter named Simone, who he shares with his ex-wife Dany Garcia, according to Yahoo. And it's clear that Johnson adores being a dad to his three daughters — even when they say the most ridiculous things.
Over the summer, The Rock posted a photo of himself teaching Jasmine how to swim, as E! News reported. And even though Jazzy's focus should have been on the water, she instead honed in on "complimenting" her dad. "Took my shirt off and she said, Daddy I like it your brown boobies.. 😂🤔 Thank you baby, but daddy has pecs, not boobies," Johnson captioned the shot, adding the hashtags #KickThoseLegs, #UseThoseArms, and #MrBrownBoobs.
Tiana may still be an infant, but that hasn't stopped Johnson and Hashian from involving her in similar antics. In August, the couple filmed baby Tiana laying on her back, while they had a "conversation" with her, Yahoo reported. "Would you like those chilled or…?" Johnson jokingly asked Tiana in the video, referring to a drink, "...on the rocks?" Hashian finished. Tiana evidently already takes after her father's on-camera chops, because she responded to all of her parents' silly questions with hilariously-timed squeals and squirms.
While scene-stealer Tiana may have a future career in front of the cameras, Jasmine just might become a visual artist when she grows up. And luckily for Jasmine, her dad will always be there as her canvas.