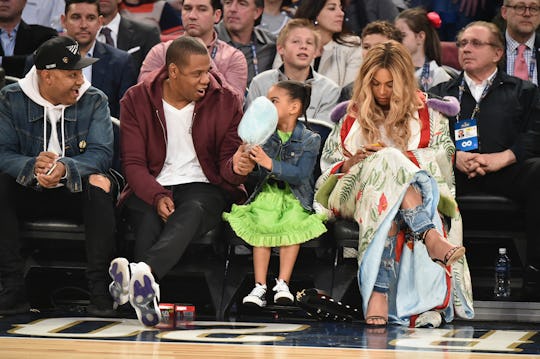 Theo Wargo/Getty Images Entertainment/Getty Images
You Have To See This Photo Of Jay-Z & Beyoncé Post-Baby
The BeyHive is receiving gift after gift today. First, Beyoncé posts a glamorous photo introducing to the world her twins, Sir and Rumi Carter, with husband JAY-Z. And now, this new photo of JAY-Z and Beyoncé post-baby will make you believe in love again.
The image, posted to Beyoncé's Instagram account around 2:30 p.m. Eastern Time, shows the power couple standing in what may be the same garden where she posed with her adorable tots. JAY-Z's back is facing the camera; he's wearing a distress jean jacket with a black back patch featuring a screen print image late Nirvana frontman Kurt Cobain. Queen Bey, on the other hand, is positioned towards the camera, standing in front of her husband, looking flawless as always. She's wearing a high-waisted floral-skirt and black t-strap heels, and holding a white puff ball purse. Bey has her right arm on JAY-Z's left shoulder, while his left arm wraps around her waist.
Admittedly, the image posted to Bey's Instagram account looks staged. But, candid picture or not, the photo captures an intimate and sincere moment between the married couple, who welcomed their fraternal twins, Rumi and Sir Carter, last month. You can't help but feel a swell of love at the sight of it.
The last month has been a wild ride for the BeyHive. It all started when Queen Bey gave birth to her twins in June. The 35-year-old entertainer never confirm the news when it first broke, so millions of BeyHive member were left waiting anxiously for Bey to release the first photo of the new little ones. Then, on June 30, JAY-Z dropped his highly-anticipated studio album, 4:44, on TIDAL. The metaphor-heavy record received the thinkpiece treatment, with music critics, journalists, and fans dissecting 4:44's lyrics line by line.
And at the center of all the 4:44 publicity was JAY-Z and Beyoncé's relationship. Some of the verses on the Brooklyn rapper's 13th album led to a whirlwind of theories about cheating, miscarriages, and a marriage on the rocks. Of course, the great thing about music is that lyrics are up for interpretation because artists use different imagery to express feelings or thoughts.
But if there was any doubt that Bey and JAY-Z love each other, then Friday's photo should prove you wrong. The famous couple may have gone through a lot during their relationship, but it's clear that the love is still strong.