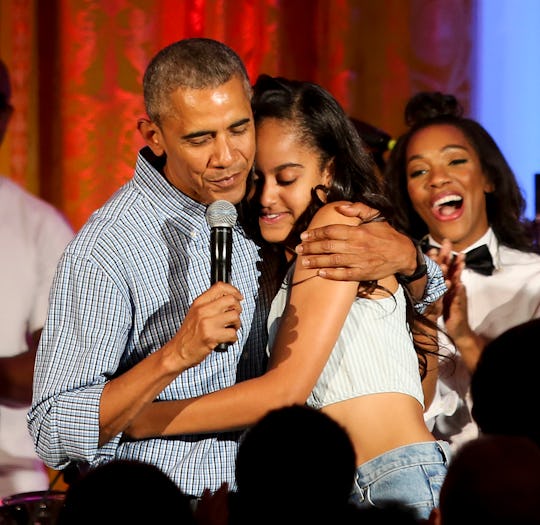 Pool/Getty Images News/Getty Images
This Never-Before-Seen Photo Of Obama & Malia On Election Night 2008 Is So Bittersweet
President Barack Obama's White House photographer Peta Souza took numerous incredible photos of him and his family during his administration. Even though Obama has been out of office for two years now, Souza still shares never-before-seen Obama content from time to time. And the photo he just shared of Obama and his daughter Malia on Election Night 10 years ago is about to make you feel all of the bittersweet feelings.
On Nov. 4, 2008, Obama won the presidential election. (Ah, remember that day? That was a good day.) Souza was not yet Obama's official photographer (he had worked for Obama for a few years when he was a senator, according to The New York Times), but on Election Day, he flew to Chicago to take photos of the triumphant night. This past Sunday, which was the 10-year anniversary of that historic day, Souza shared a previously unseen shot of Obama and his daughter Malia jubilantly embracing each other on stage.
"An unpublished photograph from ten years ago tonight: President-elect Barack Obama with daughter Malia on election night in Chicago," Souza captioned the image on Instagram. "On November 4, 2008, I flew up to Chicago, and through tears, photographed the celebration. I remember a photographer-friend said to me that night, 'I'm so glad I am alive to see this happen.' He, too, had tears in his eyes. And little did I know that just a couple of months later I would receive a phone call that would change my life."
Never has a photo in my Instagram feed made me feel as simultaneously happy and sad as this one. Ten years ago, Americans were bursting with hope about our country moving forward. A president had just been elected who cared about the oppressed. A president who had already proved himself as a political leader. A president who's a good dad and respected his daughters. Obama is a dedicated father who once said, "Any fool can have a child. That's doesn't make you father. It's the courage to raise a child that makes you a father," according to CBS News.
But now, with Donald Trump in the White House, millions of people feel that America is moving backwards. He would rather knock the oppressed while they're down. He had no political experience. And he has a very different kind of "respect" for his daughters than Obama does. In 2006, for instance, Trump said on The View: "If Ivanka weren't my daughter perhaps I'd be dating her."
Souza's photo of Obama and Malia perfectly captures the nation's happiness at that moment in time, and it's so bittersweet to relive that fateful night.
In Souza's moving caption of the previously unseen photo, the phone call he is referring to is, of course, the one asking him to join Obama's team as the Chief Official White House Photographer. During Obama's eight-year tenure in the White House, Souza documented so many important moments. And since Trump was elected, Souza has used many of those photos to throw shade at the current president — and remind people how important it is to vote.
For example, last month, Obama Instagrammed a photo of Obama casually reading a binder, captioned, "Back when life was a bit calmer. 😎 #throwshadethenvote."
And in September, Souza shared a picture of Obama greeting a group of supporters. "Today is National Voter Registration Day. Many people fought for the right to allow EVERY citizen to vote. It's our civic duty," Souza captioned the sweet shot, clearing taking aim at Trump's open discrimination towards immigrants. "If you haven't yet registered, do it today. Click the link in my profile to register in your state. #throwshadethenvote #whenweallvote."
In fact, Souza actually just released a book titled Shade: A Tale of Two Presidents, which is filled with photos of Obama and Trump alongside each other in order to create "visual juxtapositions" of the two administrations, as noted on Amazon.
If you want to feel the way you did 10 years ago when Election Night rolls around tomorrow, click here to find your polling place and ballot in advance. Like Souza says — throw shade, then vote!