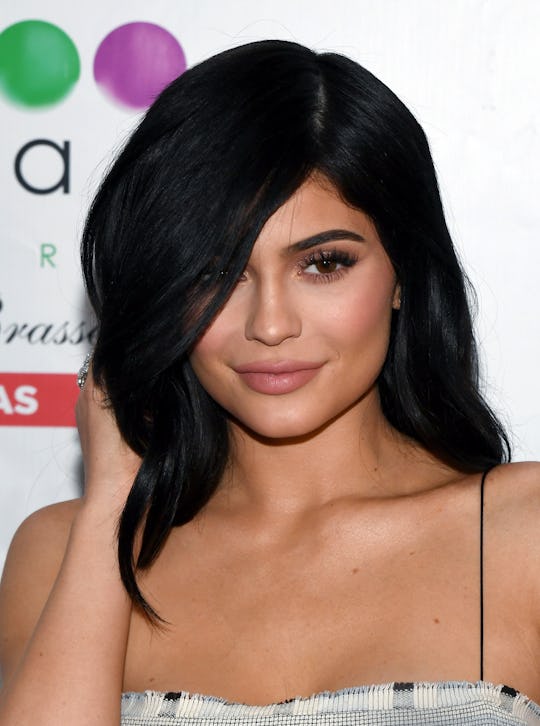 Ethan Miller/Getty Images Entertainment/Getty Images
Those Viral Paparazzi Photos Of Kylie Jenner At CVS Are Fake, But Fans Have No Chill
Unless you were hidden under a fort of blankets, getting over the flu, then you know a photo of a reportedly pregnant Kylie Jenner started circulating online Monday. In the photo, the reality TV star is standing in a CVS isle, wearing aviator sunglasses, a large green hoodie, a pair of black leggings, and floral slippers. Not everyone online was convinced that the photos were the real deal, but that didn't stop some fans from becoming excited. Turns out, most of social media was right: Those viral paparazzi photos of Kylie Jenner at CVS are fake, according to TMZ.
Sources close to Jenner told TMZ that, although the woman in the photos looks similar to the Life of Kylie star, it's not her. The sources added that the lip kit mogul continues to sequester herself in her home as her pregnancy progresses, TMZ reported. Jenner, who hasn't confirmed or denied if she's pregnant, is reportedly due in March, according to sources. She's remained out of the spotlight since the rumors broke in September.
In my opinion, these photos are clearly fake. You can see the photo, taken by Backgrid, here. Whether the woman featured is a plant is up for debate.
But it's obviously not Jenner, as TMZ has proven. Still, that doesn't mean fans have let the conspiracy theories go.
For some reason, fans of Keeping Up With The Kardashians believe that Jenner was Kim Kardashian's surrogate. Kardashian and husband Kayne West welcomed their third child, a baby girl, via surrogate on Monday, according to TMZ, which was around the same time the CVS paparazzi photos began to circulate. Just days before, rumors that Jenner was in the hospital in labor began popping up — gossip that TMZ and other outlets proved to be untrue. All of these events put together have fueled the conspiracy theory machine.
And this isn't the first time photos of an allegedly pregnant Jenner have been disproved or denied in some way. Back in November, The Daily Mail and X17 both published paparazzi shots of the 20-year-old Kylie Cosmetics founder in a black hoodie and black sweats. The angle of Jenner's body would make it appear as if Jenner is pregnant. But the outfit is oversize, which means the extra fabric is hiding Jenner's true body shape.
Jenner took to social media quickly after the photos were published to claim that both outlets Photoshopped the images to make her look pregnant, according to Refinery29. (The Daily Mail and X17 denied her allegations.) The reality TV star posted to Twitter on Nov. 5, according to R29,
First of all if you're going to photoshop my photos blogs/paps!! Check for the crooked lines in the background. 2nd photo is clearly altered.
Then three weeks ago, more paparazzi photos of Kylie Jenner's "bump" surfaced, according to Cosmopolitan. The photos in question show a person who appears to be Jenner standing at a considerable distance away from the photographer. The woman, who looks to have a baby bump, is dressed in an oversize gray hoodie and dark pants, walking around while talking on the phone at a catered function.
The images are heavily pixelated, suggesting the paparazzi had to zoom in real close or had a camera with a poor-quality lens. That alone makes those photos suspicious to me. (Jenner, though, hadn't addressed the buzz around this so-called evidence at the time.)
Honestly, I wish fans would leave Jenner alone. I am not a fan of the Jenner-Kardashian clan, but this obsession with her alleged pregnancy is ridiculous. Whether or not she has a child doesn't change any lives beyond her immediate family. So why is everyone so heavily invested?
Check out Romper's new video series, Romper's Doula Diaries:
Watch full episodes of Romper's Doula Diaries on Facebook Watch.