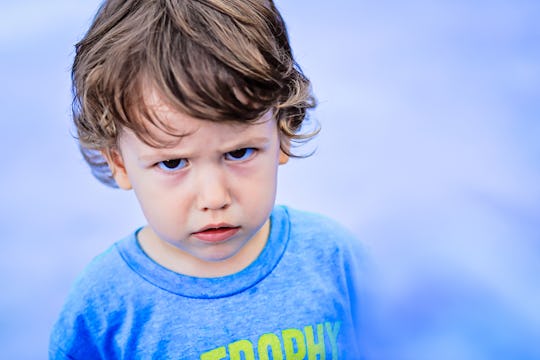 Shutterstock/Kamelia Ilieva
13 Things Parents Wish They Could Say To Their Tantrum-Throwing Toddlers
As a parent and as a human, I try to be as open and honest about everything as possible. But there's a limit to that honesty, isn't there? Because sometimes the honest thoughts that are in my head are neither constructive nor kind, and certainly not appropriate for children. Take, for instance, the things I wish I could tell a kid throwing a tantrum, specifically if that kid is one of mine.
The crappiest thing about tantrums is that there is no level at which they make logical sense. Their onset doesn't make sense and, once a kid is in the thick of one, no amount of logic will pull them out of the inferno. Tantrums, unfortunately, are generally something you just have to ride out. But here's my particular challenge: I'm a talker, and open about my feelings, which is really useful, I find, in parenting. But I'm also a smartass, which isn't always useful in parenting. Unfortunately, the more stressed I am, the more likely the smartass is to come out.
Oh you can for sure sprinkle smartassery in your parenting from time to time and it's fine, but in a tantrum situation? It's best left unspoken. When tempers are running high and everyone is stressed out, venting your honest (and completely understandable!) frustration, even in a smart-alecky way, isn't your best bet.
But wouldn't it feel really good?
Here's many of the things I'd love to say, but try my hardest not to.