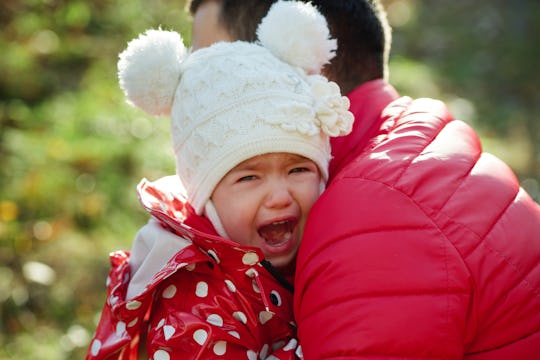 Fotolia
10 Brilliant Ways To Respond To Your Toddler's Tantrums
Toddler tantrums are possibly the worst part of parenting a small human. The screams, hysterics and crazy demands of an irrational, tired, mini-dictator who lacks any impulse control whatsoever are the stuff of nightmares. Thankfully, brilliant ways to respond to your toddler's tantrums actually exist. You just, you know, have to learn them. (Easier said than done, I can assure you.)
For years I weathered tantrum storms as an impartial observer. Working as a teacher and nanny, it was always so much easier to follow all the recommended courses of action when I wasn't related to the screamer. Since having my own child, I've realized that although it's an unnecessary anxiety, most of my selfish worries surrounding tantrums stem from a well-known yet unnecessary and unrealistic fact: they make me look like a bad mom.
One of the worst tantrums my little tot has thrown involved him stripping at an indoor soft play center. He had managed to climb high up into the rafters where only children under five could squeeze, and then decided to take all his clothes off (including his diaper) and run around like a loon flashing everyone from the mezzanine. He refused to come down the brightly colored vinyl stairs, forcing me to squeeze myself through a ridiculously small space and carry him — kicking and thrashing over my shoulder — while gripping all his clothes in the other hand as he behaved like I was kidnapping him. We exited the building while my son was screaming, "Get off me lady!!!" as loudly as he could. We have yet to return.
We all know tantrums are a normal part of the toddler stage, as little ones have no other way of expressing their frustrations. With limited resources at their disposal, lying on the floor and kicking their legs at the injustice of the adult world probably seems like an appropriate course of action. Still, as a parent, how you react can drastically alter the potential course of a meltdown. So, with that in mind, here's 10 ways to respond to your toddler's tantrums that will guarantee you two make it out alive.