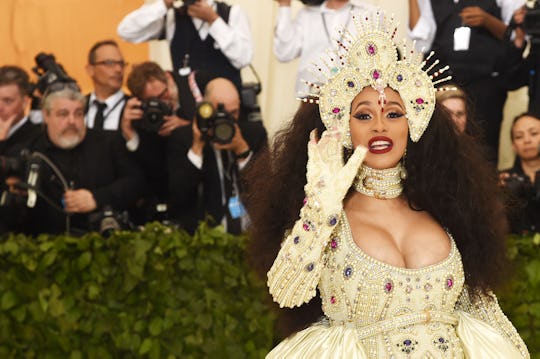 Jamie McCarthy/Getty Images Entertainment/Getty Images
Cardi B Chose The Most *Gorgeous* Name For Her Daughter
I have to confess: I didn't become a true Cardi B fan until her April appearance on Saturday Night Live. Sure, I always liked her music, but it was the way she confirmed her pregnancy oh-so-nonchalantly that made me root for her even more. And now, the Bronx-bred rapper and her husband Offset have welcomed their little bundle of joy. Of course, inquiring minds want to know: What did Cardi B name her baby? And were fans on the money with their guesses?
On July 10, Cardi B gave birth to a bouncy baby girl, according to TMZ, her first child with Migos member Offset. In April, a couple of weeks after her SNL gig, the "Bodak Yellow" rapper told Ellen DeGeneres that the couple had already chosen their baby's name, People reported. She told DeGeneres during their interview: "My dude named the baby. I really like the name."
When DeGeneres pressed her for details, the New York-born artist responded that she would let Offset "say the name since he named the baby," according to People. The Invasion Of Privacy artist also said that, although the name "makes sense," it's "almost tricky," People reported.
That's not entirely surprising. Cardi B's real name is Belcalis Almanzar, which is a gorgeous name, but many find hard to pronounce. (It may also be a secret spell that causes furniture to float, if you ask her fans on Twitter, according to Remezcla.)
So what did Offset decide on? The couple named their newborn Kulture Kiari Cephus, according to TMZ and the rapper's own Instagram announcement. "Kulture Kiari Cephus 07/10/18🎀🌸," she captioned a stunning shot of her cradling her bump.
And that's one beautiful name, even if it's "almost tricky," as Cardi B claimed previously on Ellen.
Of course, fans couldn't help but speculate on what Cardi B would call her first child. Most of the names that were tossed out were tongue-in-check — Bacardi, Landing, Nova — but other guesses seem to have more meaning and on the money, according to BET's list. For example, people did guess that the couple would name their baby girl Kiari Kendrell Cephus Jr. after dad Offset, which seems to have followed the recent trend of celebrities naming their daughters after their dads. Fans also considered Bronx as another potential moniker because of how much pride Cardi B has for her home borough.
Cardi B first hinted that she and Offset were having a baby girl in an interview with The New York Times that published ahead of the 2018 Met Gala on Monday, May 8. But the "I Like It" artist confirmed their baby's sex during an appearance on SiriusXM's The Howard Stern Show the day after the annual fashion event, according to People.
In that same interview with Stern, Cardi B also deflected questions about her daughter's name. When Stern also pressed for details, the Bronx-born rapper responded, as People reported:
You know what? I didn't pick the name. So if you interview my dude, he will tell you.
Offset never spilled the beans, though.
Now that Cardi B and Offset have welcomed their newborn into the world, fans are left eagerly waiting their wedding, which is sure to be an extravagant event, though they're already officially married. Cardi B said in an April interview with GQ that the couple have planned for a fall wedding in Atlanta, where Offset hails from, but never gave a specific date. If the ceremony is anytime in October, that would make it a year to the month after Offset proposed to Cardi B while onstage at Power 99's Powerhouse Concert in Philadelphia.
Congratulations to the beautiful family!