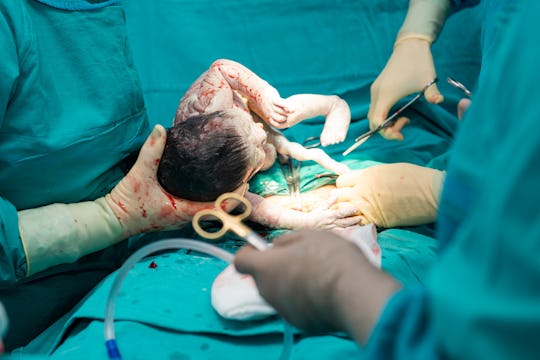 asimi/Fotolia
What Every C-Section Mom Wants Women Who Plan On Having "Natural" Births To Know
For pregnant women planning on experiencing natural births (i.e. vaginal births without medical interventions or medications), a C-section almost feels like a betrayal of everything they were promised and worked toward. It doesn't have to feel that way, though. I'm here to say that you can shift your perspective about C-sections if you consider the experiences of women who have actually had them. Maybe the things C-section moms want women who plan on having "natural" births to know might even comfort you, especially if the idea of a C-section leaves you completely terrified.
A C-section was definitely not on my birth-plan. As my first pregnancy progressed, there were a few bumps in the road that indicated a C-section could be a possibility. One of the bumpiest of the bumps was that my baby had not turned by the time he should have. My doctor decided that I needed to have what was called a "version" to externally rotate the baby so that he would be ready to exit the birth canal, facing the right direction, when the time came. (For the record, that was painful as hell.) Once the version was completed, I figured I was out of the woods and no longer at risk for a C-section. In the end, my body had a different plan.
A "natural" birth wasn't exactly my plan either, but I did attempt to go a long while without any pain medications in an effort to give a medication-free labor a try. I never got to the point of being able to push, however, before I was sent in for an emergency C-section. And despite my original plans, I'm grateful that my doctors and I made the decision to have the surgery.
I had a C-section for my second son, too. So I speak from experience when I say that C-sections are not evil and that my doctor, at least, was not rushing to get my birth over with so she could get back to her golf course or whatever. Sure, C-sections are not ideal, I guess. They are surgery, after all. But there are some upsides to the common procedure, and I'm here to tell you about some of them, should you end up splayed out on an operating table you had never planned on lying on in a million years: