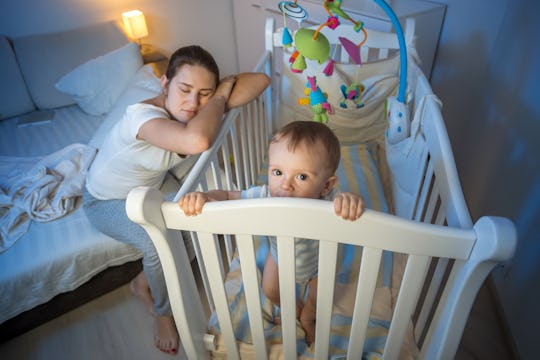 Кирилл Рыжов/Fotolia
What Every Overwhelmed Stay-At-Home Mom Wants Pregnant Women To Know
I always planned to be a stay-at-home mom, at least while my kids were small. In fact, and if I'm being honest, I worked my ass off so I could be the one my kids can come to for school-, extracurricular activity-, or life-related things. And now that I've been at home with my children for 11 years, I can safely say there are some things every stay-at-home mom wants pregnant women to know. Now, I'm not trying to scare expecting parents. I just want you to know that, even when it's hard, being a stay-at-home parent (if you want to, are able to, or choose to) is worth it.
My first few years as a stay-at-home mom were rough. Going from the free, young, fun-loving gal who held a position at a great company to suddenly pregnant with my partner of only a little over a year was, well, a shock. I wasn't exactly ready to be a mom, or to be the stay-at-home mom I had always planned on being. Life has a way of pushing you in directions you might initially question, though, only to lead you down a path that makes you realize that thing you were terrified of? Yeah, that was the best thing that could've ever happened to you.
After my daughter was born, we spent all our time together. It was a learning process for the both of us and, honestly, it forced me to grow up before I probably would have without her. We struggled for a while — through my postpartum depression, my partner's long work hours, and through me figuring out how to be a mother — but my daughter taught me so much more than I ever expected.
Years later, when I had my son, I should've been an old pro at the stay-at-home mom thing. But working from home, getting my daughter to preschool, and generally learning how to be awesome as a mother of two was much more difficult than I could have ever imagined. Having my son threw a major wrench in the system I had become accustomed to. In other words, I had to start all over again as a, now, stay-at-home mother to two.
Still, I figured it out, and now my babies aren't babies anymore. They're (mostly) self-sufficient, independent, little power houses. And despite the difficult days — the ones where they're crying over homework or chores or, really, anything you could think of — being home with them has helped me grow into the woman I am today. With that, here are some things expectant moms, who are considering staying home with the kids, should know: