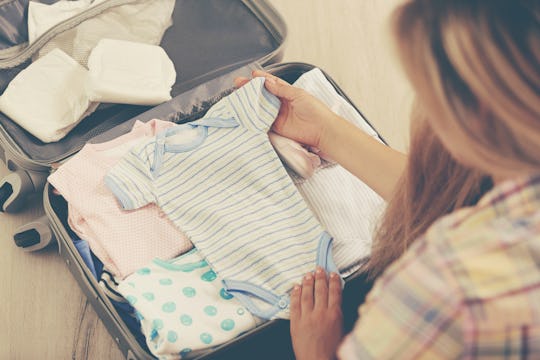 Africa Studio/Shutterstock
13 Moms On The One Off-The-Wall Thing They Wish They'd Packed In Their "Go Bag"
As a soon-to-be first-time mom I wanted to be prepared as I could possibly be for childbirth. As a result, I totally over-packed my hospital bag. I didn't end up using most of the items I thought would be super-important — a birthing ball, breast pump, and a pair of pre-pregnancy jeans — and forgot important items I could have definitely used, like a nursing pillow and maternity pants. I'm not the only new mom who had no idea what to pack in a hospital bag, either. Romper spoke to numerous moms who shared the one off-the-wall, easy-to-overlook item they wish they would have brought to the hospital when it was "go time."
These items include the unexpected, like formula because the hospital you birthed at doesn't provide any to new moms who either don't want to breastfeed or have trouble breastfeeding and need/want to supplement. Some moms wish they'd planned better for their practical needs, too, by bringing extra sanitary supplies, toiletries, or comfort items. And the items other moms needed seemed even further "off-the-wall" to me, although that absolutely doesn't mean they weren't necessary. After all, every postpartum woman is different.
So if you were getting ready to pack your own hospital bag, and want to know what other experienced moms felt they were missing, read on: