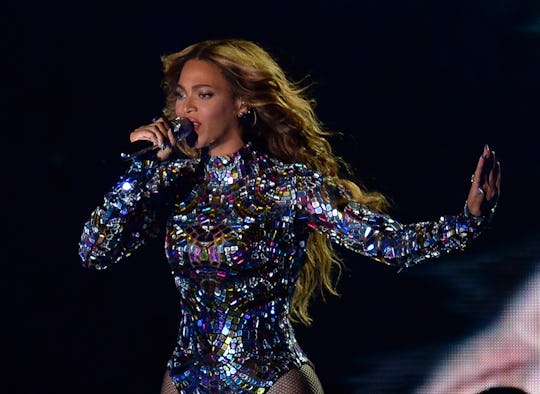 ROBYN BECK/AFP/Getty Images
What Songs Will Beyonce Perform At The VMAs? The Queen Will Enthrall The Audience
Every year, MTV's Video Music Awards show attracts the most influential and innovative of pop culture icons, who consistently deliver some of the most outrageous, shocking behavior on TV in addition to their stunning performances. 2016's Sunday night lineup already includes greats like Rihanna, Britney Spears, and Future, but the Los Angeles Times reported that Beyoncé herself may be gracing the stage at Madison Square Garden — a move that would be the latest in a slew of mysterious surprises that have enthralled fans and cemented her status as the greatest living entertainer. We already know that everything the Queen touches turns to gold, but what we don't know is exactly which songs Beyoncé will perform at the VMAs.
Even though reports that Bey will headline at one of the premier music awards events of the year are unconfirmed, it would be nonsensical for her not to: In a career record, Beyoncé is nominated for an incredible 11 VMAs for material from her unprecedented visual album, Lemonade, which dropped to major critical acclaim in April. Memories from her two most recent VMAs performances in 2011 and 2014 still get fans' hearts racing, so the logical question for MTV definitely wasn't whether to secure Beyoncé for the show, but how to pull it off.
When and if Beyoncé dominates the show again Sunday night (the LA Times reported that she has been in "top secret rehearsals" ahead of the show), she can easily build her medley of songs based on those up for awards. "Formation," which she released as a single ahead of "Lemonade" is up for six — six! — awards, including the most coveted prize of the night, Video of the Year. It's the titular track for her Formation World Tour and the one that famously alerted the world that Beyoncé is black because of its political messages. With lyrics like "I like my baby heir with baby hair and afros," "Formation" first introduced a Beyoncé who's proud of her identity as a black woman as she acknowledged the police brutality that African Americans endure.
Because of the central role it's played in establishing Beyoncé as a politically astute social commentator, "Formation" seems like a given for her rumored VMAs performance. So does "Hold Up," an empowering exploration of rage over a man's infidelities, the video for which is nominated for Best Female Video as well as Art Direction. Ditto "Sorry" — in which Beyoncé actually ain't sorry — which will compete against "Formation" for the award in choreography. And I'd be surprised if "Freedom," a collaboration with Kendrick Lamar, didn't make an appearance, as it's up for the award for collaboration, and the two killed it with a surprise performance of the song at the BET Awards in June.
And surprises are one of the many, many things that Beyoncé does best. She invented the surprise video album in 2013, when she unexpectedly dropped her first self-titled album and fifth solo album, Beyoncé, with absolutely zero promotion. She revamped that concept this year with Lemonade, revealing that she'd unveil something on HBO, but providing very, very few clues about what it was before the debuting the hourlong film and accompanying album.
So, we could use her 2011 performance — when when when she segued from an energetic performance of "Love on Top" into an epic pregnancy announcement — as a possible predictor of what she may have planned. Or we could look to 2014, when, in another career-defining moment, she posed in front of giant backdrop of the glowing word "feminist" during that rendition of "Flawless," and followed up with "Yonce," "XO," and the ode to her daughter, "Blue," before accepting the Michael Jackson Video Vanguard Award from husband Jay Z. But perhaps the best way to prepare for what will undoubtedly be among most awe-inspiring performances of the night is to simply trust the queen, and recognize that we cannot possibly predict how her greatness will manifest this time.