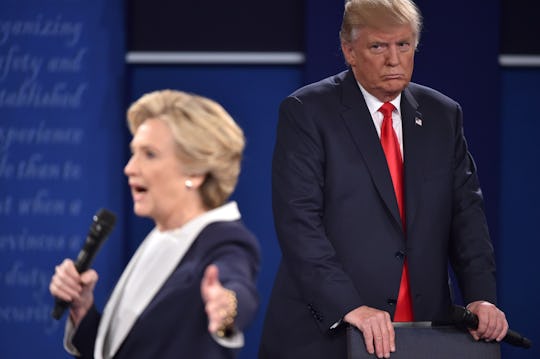 PAUL J. RICHARDS/AFP/Getty Images
What Time Is The Final Presidential Debate? The Election Is Almost Here
America, there's only about three weeks to do before the surreal debacle that has been the 2016 campaign season is finally over. And though we the people have already soldiered through two long debates between Donald Trump and Hillary Clinton, we have yet to weather another. We're just barely clinging to our sanity as the GOP's nominee has defended a racist lie (that President Obama was not born in this country); has congratulated himself for paying no federal income taxes; has stalked his opponent around the stage like prey and threatened to have her jailed; and, oh yeah, referred to a video of himself boasting about allegedly kissing and groping women without consent as "locker room talk." On the flip-side, we've been inundated with claims of Russian hacking and a new slew of Clinton WikiLeaks emails to sift through (yet again.) We're outraged, we're fatigued, we're demoralized, and we really need to know what time the final presidential debate starts this week so we can triumphantly anticipate the end.
The third and last presidential debate is scheduled for Wednesday, October 19, at 9 p.m. ET, and, like its doomed predecessors, it doesn't stand much of a chance of being a totally civilized affair, if Donald "This Election Is Rigged Against Me" Trump has anything to say about it. Already, the serial sniffler has suggested that the the candidates should take a pre-debate drug test before the matchup in Las Vegas, insinuating that he believes — with absolutely no evidence — that Clinton have been benefitting by some performance-enhancing supplements during debate no. 2.
You know, because as most pundits and analysts agreed, she totally, absolutely, unequivocally beat him.
"We should take a drug test prior because I don't know what's going on with her, but at the beginning of her last debate she was all pumped up at the beginning and at the end it was, 'Huh, take me down,'" Trump said at a New Hampshire rally Sunday. "She could barely reach her car. So I think we should take a drug test. Anyway, I'm willing to do it."
That's absurd. But Trump, whose polling numbers have taken a tailspin since the audio of him joking about sexual assault in 2005 leaked in early October — a devastating blow to his campaign that precipitated an influx women accusing him of sexual assault to publicly tell their stories — does have one last chance, however minute, to spar with Clinton face-to-face and make his appeal for votes.
The debate, moderated by Fox News anchor Chris Wallace, will cover six topics in 15-minute segments. Those are immigration, entitlements and debt, the Supreme Court, the economy, foreign policy, and each candidate's fitness to serve as president, according to Politico.
And just as the unpredictable horror that had defined this election cycle has been, the third presidential debate will be difficult to avoid. It's airing on most of the major networks, it will be streaming online, and it will be taking over timelines all over the nation. Watch it and weep, you guys. And then go vote.