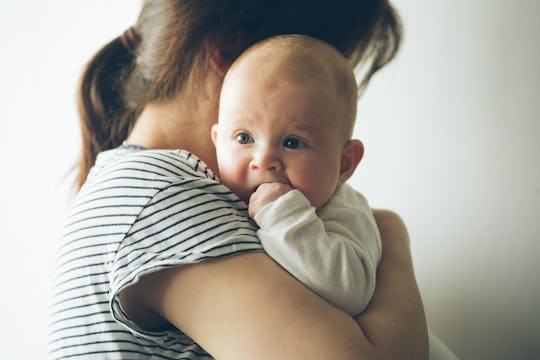 Irina Bg/Shutterstock
What To Say To A New Mom Instead Of "I'm Here If You Need Me"
As a new mom, very few things actually made sense to me. The doctors letting me leave the hospital with my baby? Preposterous. Didn't they knew I was utterly clueless? A baby's ability to cry for hours on end? Mind-blowing. Like, how? The size of a tiny newborn's poops? Defies logic. A body that small should not be able to produce waste that big. What did make sense, however, were the people in my life struggling to figure out what to say to a new mom... me. I mean, before I had a kid I had no idea what to say to new moms, either. So when people in my life no longer knew how to communicate with me, aside from the "OMG your baby is so cute" talk, I wasn't surprised. I was, however, in desperate need for more.
It was obvious to me, even in my sleep-deprived state, that people could tell I was struggling. The circles under my eyes were very, very dark, I hadn't really showered in a few days, I hadn't really slept in a few more days, and my ability to complete a single coherent thought was seriously lacking. But it was even more obvious that people didn't really know how to discuss my obvious seat on the struggle bus. They didn't want to offend me, they didn't want to be intrusive, but they didn't want me to feel alone, either. So, more often than not, they would say they were around if and/or when I needed anything.
But that wasn't helpful, because there was no way in hell I could add "reach out to friends and ask for help" to my long to-do list; a list that was already overwhelming. I needed action, not words. I needed someone to just do stuff; to just help me; to just take a look around, assess the situation, and take some damn initiative.
So if there's a new mom in your life, do more. Do more than just tell her you're there when she needs you. Do more than just tell her she can always call you. Do more than just say you're around. In fact, you can start by saying (and doing!) the following things instead: