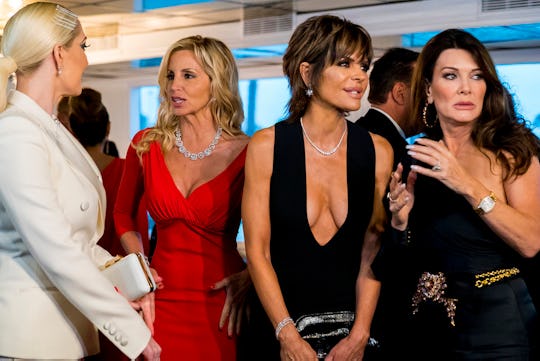 Nicole Weingart/Bravo
Here's When Fans Can Expect 'RHOBH' To Return For Season 9
It's always sad when the reunions of your favorite The Real Housewives come to an end. So now that Dorit and Teddi and Camille hashed out all of their problems in formal wear, when does The Real Housewives of Beverly Hills Season 9 premiere? Because we need more and we need it now. Even though the women tied up a lot of loose ends from the season, like how Erika got into that latex dress and why Rinna was so cheerful this year, there are still so many stories about their friendships to hear that we won't get to see until this time next year.
As of right now, there's no confirmation about another season or what cast members will be coming back. RHOBH is a Bravo staple, so it will likely be renewed for next year without much fanfare. Since around Season 5, RHOBH has premiered in the very late fall or in December. Season 8, for example, premiered on December 19, 2017. Season 7 premiered on December 6, 2016. So, when it comes back, it will likely be right before the holidays, given how it fits into the network's programming schedule.
Which means that the show likely starts filming soon, since last summer, around early July, Season 8 filming was well underway by then, even though the only clues about who the cast members would be came from Instagram.
RHOBH has had a fairly steady cast throughout its run. Kyle Richards, Lisa Vanderpump, and Lisa Rinna have been on the show since the very first season, so it's likely that all three will return for Season 9. Camille was an original main cast member and came back as a friend this season, so there might even be more room for her in Season 9. We could use a little more Camille, as far as I'm concerned.
Rinna is pretty busy with other projects, such as The Middle, and since she was so calm this season, it's entirely possible that she would step away from the show, much like Eileen before her in Season 7. When you have so many other projects going on, who has time to fight over wine glass-styles or whether someone was late or not?
Erika joined the cast in Season 6 and is riding high on the success of her music career and book. She seems to love being on the show, so she'll probably return, too. The two wild cards are really Dorit and Teddi who have both been very measured in the press when talking about their future on the show.
Teddi told Romper earlier this month that she couldn't talk about Season 9 "just yet," and given all of the drama she was involved in this year, who could blame her for calling it quits? Dorit, too, appears to be on the fence. She told Entertainment Tonight:
I think once we finish the season, my husband and I can sit down and have a chat and see where we are in our lives and what we want to do. I would like to take a vacation [first]!
However, Dorit seems to like being the center of attention, so it feels likely that she and P.K. will get on board after that much needed vacation. Let's hope so, at least. She told Entertainment Tonight in the same interview that she was even alright about being cast as the villain this season:
I think that in this world, you know, there's always a villain and maybe it was just my time. I think things get blown out of proportion, of course, and thank goodness we're not talking about anything that's really dire. You know, a glass, a miscommunication on time.
While they might not be brokering world peace, the women of The Real Housewives of Beverly Hills are beloved. Let's all hope Season 9 comes sooner rather than later.
Check out Romper's new video series, Romper's Doula Diaries:
Watch full episodes of Romper's Doula Diaries on Facebook Watch.