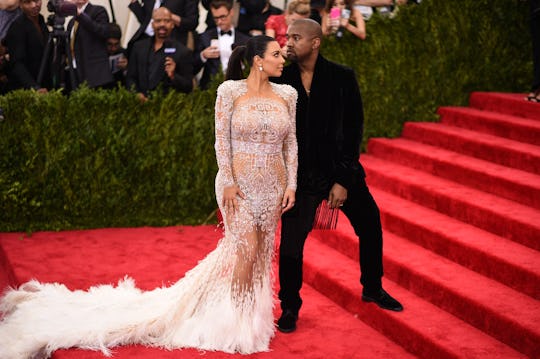 Andrew H. Walker/Getty Images Entertainment/Getty Images
When Will Kim K's Supposed Surrogate Give Birth?
On Wednesday, rumors started swirling that Kim Kardashian and Kanye West had hired a surrogate to carry their third child. If true, though, it's great news for the family. But without any confirmation, it's way too early to start speculating when Kim Kardashian's surrogate will have her baby. Seriously — we don't even know if the Carter twins have actually arrived or not, yet, so let's all slow down when it comes to guessing. (Romper reached out to Kardashian's rep for confirmation of the reports and is awaiting a response.)
Since everything is just a rumor for now, there's obviously no due date floating around either. It's so hard not to wonder, though, given that both North and Saint are totally adorable. Who wouldn't want to see another pair of teeny tiny Yeezy boosts slipped onto one of their newborns?
But it's not just about the Instagram possibilities. The choice to hire a surrogate, if true, is Kardashian's best option. The couple has expressed an interest in having more children in the past, but felt like they wouldn't be able to, given the complications with Kardashian's first two pregnancies. Recently, their worries were confirmed after the reality TV star was told that carrying another child would not be "safe." It's no wonder Kardashian doesn't want to get pregnant again.
Everyone knows how much Kardashian dislikes being pregnant, as she was super vocal about it during her second pregnancy. It makes sense — she had preeclampsia and placenta accreta with her first pregnancy. Saint was breech and had to be turned in what is supposed to be a painful external cephalic version (ECV) procedure. That could make anyone scared to try again for a third kid, even if they desperately want to grow their family. Kardashian wrote on her blog in 2016:
I'M GONNA KEEP IT REAL: FOR ME, PREGNANCY IS THE WORST EXPERIENCE OF MY LIFE! LOL! I DON'T ENJOY ONE MOMENT OF IT AND I DON'T UNDERSTAND PEOPLE WHO ENJOY IT. MY MOM AND KOURTNEY CLEARLY DID! MORE POWER TO THEM BUT I JUST DON'T RELATE…
Kardashian was criticized for being honest about hating her pregnancy. She was also criticized for how much weight she gained during both pregnancies and any number of things. She will likely be criticized if she hires a surrogate, too, if they confirm the news. Some are even accusing her of "stealing Beyoncé's thunder." The woman just cannot win.
Instead of pointing fingers at the family, people should be happy that Kardashian has options. There are likely families out there who are in the same position as Kanye and Kim and can't afford to to hire a surrogate, as it costs tens of thousands of dollars. But why hate on a woman who's just trying to do what's best for her and family?
Let Kim Kardashian live her life. Or at least wait until she confirms rumors to start casting unnecessary opinions.