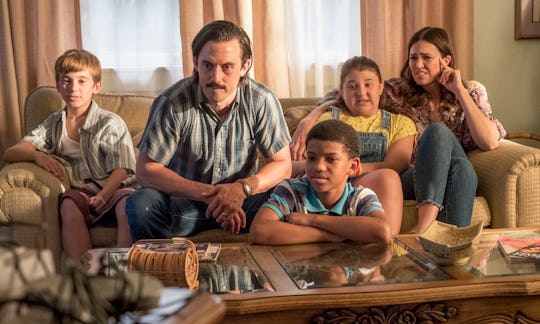 Ron Batzdorff/NBC
Here's When 'This Is Us' Returns To Rip Your Heart Out
Calling all This Is Us fans: If you're still salty over the (very) necessary midterm election coverage that took control of primetime TV Tuesday night, I get it. How could anyone *not* miss the Pearsons? With Season 3 only six episodes in, it's natural to feel cheated with a break in the heartache — especially with Jack's Vietnam past, Kate's pregnancy, and Kevin's big trip revving up. So when will This Is Us return? Let me be among the first to give you the good news because the wait is almost over.
Though election coverage took the top spots on NBC this past Tuesday, The Big Three, their significant others, Jack and Rebecca (don't get me started on Miguel) will return to your screens next Tuesday, November 13 at 9 p.m. ET. The show last left viewers with a glimpse of Randall's campaign for city council as he offered Beth a job and found himself a campaign manager. Kate's finally pregnant, however high-risk, while trying to balance her excitement with Toby's spiraling depression that began after he stopped taking his depression meds to help with his fertility. And though he's back on medication, it's taking longer than expected to find his footing again.
Chrissy Metz (who plays Kate) told The Today Show which scenes she found hardest to shoot saying, "The most intense moments for me to shoot in season three so far probably have been the Toby-centric episode, where we discover that he's been off his depression medication." She went on to describe the This Is Us aesthetic perfectly adding, "And then, of course, in true This Is Us fashion, you can't have the joy without the pain." So, so true.
As for good ol' Kevin, he's still obsessing over the necklace his father gave him after spotting it on a mysterious woman in an old Vietnam photo. He invites Zoe to travel with him to Vietnam where he hopes to find some answers about the life Jack had before him.
The last big clues about Vietnam came in a full hour dedicated to Jack's time in the war (aptly titled "Vietnam"). Flashbacks were sprinkled throughout about his relationship with his younger brother, Nicky. Though it's still assumed Nicky died sometime during Vietnam, fans are waiting for the curveball that says otherwise. In the final moments of that episode, Jack and Nicky came face-to-face for, what viewers are made to believe, is the first time since each joined the war. It's an awkward meeting and Nicky clearly looks as though he's been through some things before this reunion.
The episode slated to air in a mere six days, titled "Sometimes," will follow Kevin and Zoe as they get to Vietnam, but I doubt there will be too many reveals just yet. Showrunners are pretty fab at rationing the info so those big reveals feel even bigger. Lucky episode number seven will also reveal what happened on Jack and Rebecca's epic LA road trip which should be interesting since he and Bec only just met. The teaser clip also revealed that during this special trip, Jack has nightmares — probably over his time serving in Vietnam — that he'll likely brush off, as he does with most things. The frustrating part of these crucial flashbacks between the two lovebirds is seeing how Jack's guarded secrecy isn't exactly the best foundation. Basically, though they come off as near perfect in some episodes, there are obvious flaws in the relationship — which is very much like real life.
Sure, there was a break in the This Is Us action for an important night, but buckle up for three consecutive episodes before the holiday season kicks off. If you'll remember what Pearson Thanksgiving looked like in the past, imagine what this season will bring. In less than a week, more answers in the Pearson family saga will be revealed (maybe, hopefully).