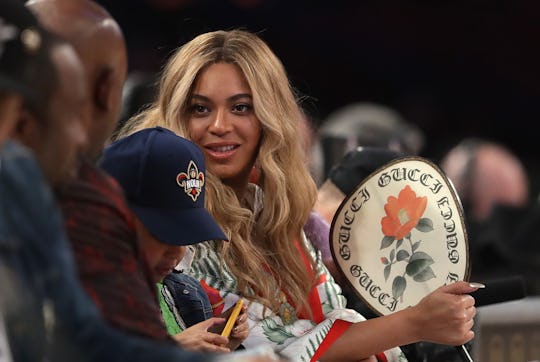 Ronald Martinez/Getty Images Sport/Getty Images
Creeping On Beyonce's Rental Home Is A Privacy Violation
After the news broke that Beyoncé and JAY-Z had welcomed their twins earlier this month, fans wanted to know everything from what their names are to their condition to when they'd make their Instagram debut. The new parents of three haven't publicly commented on the rumors that two new babies have joined their 5-year-old daughter, Blue Ivy, though — not even to confirm their arrival. But now, E! News has reported that Beyoncé's twins left the hospital and finally went home. This sparked a whole new round of rumors, and now the question at the top of the Beyhive's collective mind is where are Beyoncé's twins staying?
And because of the overwhelming public interest in Bey and Jay, there is no shortage of rumors about where, exactly, they and their children are now that the little ones have (reportedly) been released from the Los Angeles hospital where they were (reportedly) born June 12. In fact, The Daily Mail published an incredibly detailed report about the Malibu mansion that the entertainers are reportedly renting Monday. After at least one reporter actually visited the property, the publication posted everything from pictures of the place to the monthly rent to the actual name of what it referred to as a "lavish hideaway."
It's pretty intrusive, really — and illustrates yet again why this entertainment empire of a couple generally does whatever it takes to maintain their privacy and that of their family.
The Daily Mail reported that Beyoncé and her two new babies moved into the property after they all left the hospital on Wednesday. Before their (officially unconfirmed) release, the babies were reported to have been undergoing treatment for jaundice after having been born premature.
That minor glitch 100 percent explains why supplying their fans with photos of their newborns or sharing their names has been far from a top priority for Beyoncé and JAY-Z (not that it would be, anyway). They probably feel like millions of people they don't even know already know way too much about their private lives, anyhow, thanks to the rabid speculation and the dogged reporting of gossip magazines and websites whose readers can't get enough of the Knowles-Carter family.
Right now, Bey, like most women who just gave birth, likely wants to be surrounded by family and close friends — not worrying about avoiding photographers who caught wind of where she's living. Which is why where the twins are right now is the business only of people like Bey's mom, Tina Knowles, who was reportedly spotted visiting her daughter's Malibu mansion Sunday.
The rest of us will just have to wait until the Knowles-Carter clan invites the public into their lives to meet those twins.