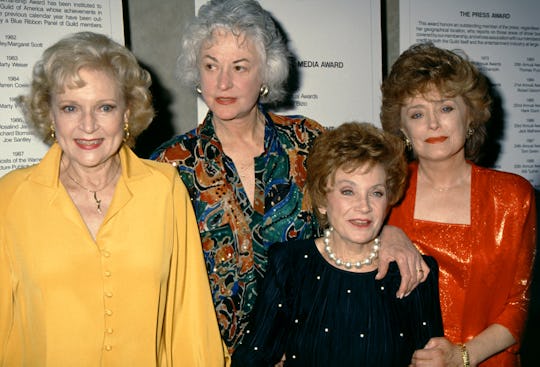 Ron Davis/Archive Photos/Getty Images
Which 'The Golden Girls' Character Reflects Your Parenting Style
When we met Dorothy, Rose, Blanche, and Sophia on The Golden Girls, they were all grandmas. Their days of diapering and putting Band-Aids on boo-boos were long over (except for that one episode where they babysit an infant and sing "Mr. Sandman" in three-part harmony to lull him to sleep). But they were, indeed, all mothers, and that fact is explored throughout the series. And I think you can tell which Golden Girl reflects your parenting style if you really look into their characters and what we know about who they were as moms.
One of the several best things about this show is that the women were all archetypes, but they were still unique, fully-formed characters. Dorothy was the overly-practical "straight man," but she was also extremely sensitive and often emotional. Rose was a cheery, starry-eyed dope, but she also battled addiction (oh yeah, that was a plot, you guys, though admittedly not the show's best). Sophia was quick with zippy one-liners, but frequently depicted the challenges of what it was like to grow older and have so many of your friends die. Blanche was vain and a self-proclaimed "slut," but had a number of complicated, not always fun relationships with her family and friends as a result of her self-centeredness.
The show may be off the air since 1992 (minus the million and seven reruns shown daily on assorted cable networks), but can still continue to see ourselves in these incredible characters, including in how we parent our children.