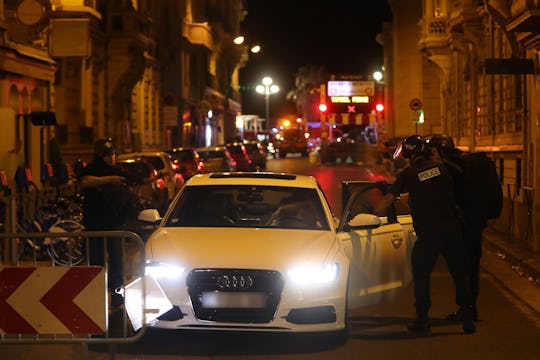 VALERY HACHE/AFP/Getty Images
Who Are The Victims Of The France Crash? Scores Of People Were Killed
Authorities are scrambling to determine what exactly happened during a Bastille Day celebration in Nice, France, when a driver killed at least 77 people who had just enjoyed a fireworks display. French news outlets reported that the driver of the truck that plowed into the mass of people was killed after allegedly exchanging gunfire with police, but the question of who the victims of the France crash are remains. France has been the target of several devastating terrorist attacks recently, and the Bastille Day massacre now adds more to the already high death toll.
Update: French President Francois Hollande announced Friday that the death toll had risen to 84 and at least 50 people were in critical condition "between life and death," according to ABC News.
After the the truck rammed into the crowd at about 10:30 p.m. local time, police discovered firearms, explosives, and grenades in the truck, CNN reported. It seemed that the intention was to kill as many people as possible and to inject fear even deeper into the French consciousness after the series of coordinated attacks in Paris that killed 130 in November, an atrocity that ISIS soon claimed responsibility for. And judging from reports of what happened at the scene as so many died, fear is surely hard to avoid.
Dr. Kevin Motamedi of Denver described the situation to NBC News as "just complete mass hysteria." "I looked up and saw, like, a tsunami wave of people just running towards me as fast as they possibly could screaming at the top of their lungs," he said, according to the outlet.
No terrorist group has yet claimed responsibility for the attack on the seaside tourist destination during celebrations for France's most significant national holiday, but it does bear some disturbing ISIS hallmarks: Just as the terrorist group did during the November attacks on Paris, the perpetrator or perpetrators of the Bastille Day massacre opted to strike a site of celebration and leisure. Also, because Nice is a seaside tourist destination, it's likely the attackers hoped to murder people of many different nationalities — just like the suicide bombers who killed more than 40 people at the Ataturk Airport in Istanbul last month did. And Turkish officials believe ISIS was involved in that attack.
According to Vox, a Nice resident told French news channel BFM-TV that the truck hit "entire families," including children. Another witness, Maryam Violet, said that she saw many people on the ground and on the sidewalk as she walked along the beach, along with evidence that the victims were just regular people, according to CNN. "You could see someone with a bike or a wheelchair and someone with a bag full of flowers, innocent and normal people on the beach," she said.
In addition to the more than 70 people reported dead, at least 100 people were wounded, NPR reported. In order to help people who were there connect with their family and friends who are undoubtedly incredibly worried about them, Facebook has activated its safety check-in feature. Through that tool and over the next few hours, people all over the world as well as authorities in France will learn exactly who the victims of the crash in France are, and, we will continue to mourn them as we begin to learn about their lives.