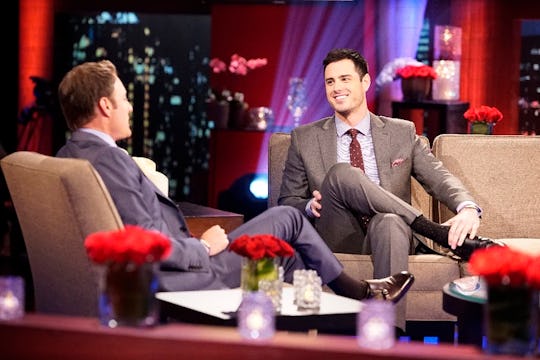 ABC/Kelsey McNeal
Who Does Ben Pick In 'The Bachelor' Finale? The Internet Has Its Own Favorite
We are only two short weeks away from finding out who the Future Mrs. Higgins will be — and we don't even have to speculate that much anymore. After a whirlwind episode of The Bachelor this past week, bachelor Ben Higgins said "I love you" to two contestants and then later went on Good Morning America to reveal that he is, indeed, engaged to the woman he picks on the show. But who does Ben pick in The Bachelor finale? The internet has certainly picked its favorite to win and some websites even going as far as to speculate on the actual winner.
After saying goodbye to Caila in the last episode (which was seriously heart-wrenching, don't even get me started), Ben now has to choose between the stylish and fun JoJo and the sweet and romantic Lauren B. We won't find out until a few weeks (and one stressful edition of "The Women Tell All") from now, but many people have already started speculating as to who Ben picks as the winner of The Bachelor and that final, coveted rose.
In an interview this week, Ben told Us Weekly that he put his fiancée "through hell and back" after coming clean about telling the other woman on the show that he loved her.
Who is this lucky lady that would go through hell to be Mrs. Higgins? There aren't that many choices left, but let's break it down.
The internet has been loving JoJo. Her crazy intense brothers and a surprise letter from her ex-boyfriend popping up during her hometown date didn't stop her from having a true connection with Ben and not hesitating for a second to tell him that she loved him. I think it takes a lot for a person to come out of what JoJo went through unscathed and the fact that they both persevered to get to this point in their relationship says a lot about the couple and the strength of their bond.
However, there is a lot to be said about Ben and Lauren B.'s relationship. Ben has been super into Lauren B. since the first time she stepped out of the limo on the first night of the show. She is sweet, bubbly, and you can tell that she cares for Ben. Not to mention, you can tell that he is super into her by the way he looks at her — like she is the only girl in the room. I think they have undeniable chemistry and Twitter seems to agree.
Now, spoiler sites like Reality Steve claim that Lauren wins, but they could be wrong. There is a reason why Ben told JoJo he loves her and I truly think they have something special going on between the two of them. However, he did do the same to Lauren B., which makes it all that much more confusing.
There is no denying the chemistry between Ben and the final two girls left and I think this decision will be an incredibly difficult one for him. For now, we will have to wait until March 14 when the identity of that lucky woman is finally confirmed.