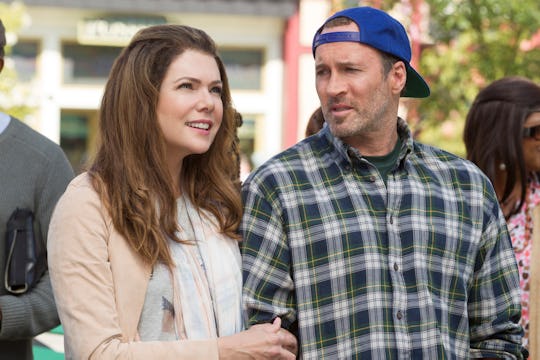 Netflix/Saeed Adyani
Who Would Return For Season 2 Of The 'Gilmore Girls' Revival? The Cast Seems Ready
The shock has barely worn off from Rory's surprise pregnancy announcement and already fans are wondering if there will be another season of the Gilmore Girls revival. Although it was originally supposed to be a one-off project, meant to right all that Season 7 had done wrong, it seems the possibility of more episodes isn't entirely out of the question. But who would return for Season 2 of the Gilmore Girls revival? Although some of the cast have other projects going on, a lot of the actors seem like they'd be game if the opportunity arises.
Regardless of whether or not you agreed with that cliffhanger of an ending, I think it's safe to say that the Netflix revival was a huge success, with fans still talking about the way everyone came back, the little Easter eggs within the four-part continuation, and theories about who is the father of Rory's baby. It's not as if the love for Gilmore Girls ever died, but in the almost 10 years since it was on the air, you would have never guessed that the outpouring of fans, new and old, would be so great.
So if there is a Season 2 of the Gilmore Girls revival, who would be in it? It might be wishful thinking for every single cast member to be back yet again, but some of them have spoken about it freely, admitting that if they were asked, it just might happen.
Scott Patterson Seems Like He'd Be Down
Patterson (Luke) recently spoke to The Hollywood Reporter and said that, if it comes up, he'd do it again next year. He said that "it'd be nice to do it every year," and "maybe every two years, do a three-month thing, do four more chapters. It was easy to do. It was fun." One installment every year or two? Yes, please.
Alexis Bledel Is Basically A Maybe
While Rory has always been an integral part of Gilmore Girls, now that fans know she's pregnant, she be an even bigger part of the story in Season 2. But is she willing? When speaking with Entertainment Tonight, she said that to return once again "It all depends on the story," and honestly, that's not an outright "no," so I'll take it.
Lauren Graham Called It A Cliffhanger, As Opposed To A Definite Finale
In her book, Talking As Fast As I Can, Graham talked about the final four words at the end of the Gilmore Girls revival and called the whole thing a "cliffhanger." She teased her readers in the memoir, hinting that although it is over right now, that doesn't really mean the end end. "But seriously, didn't you sort of think that ending was really more of a cliffhanger?" she wrote. Yes, it was. The kind that segues into an amazing second season.
Matt Czuchry Would Be Ready For A Season 2
As the main possibility for Rory's baby's father, Matt Czuchry (Logan) would almost have to return for Season 2 of the Gilmore Girls revival. Unfortunately, like Bledel, he was kind of cryptic when he spoke to E! News about the revival returning for another season. "If this is the end, it's a great ending," he said, while adding: "and if there's more, it'll be another great ride." That doesn't give a definite answer, but it does make it seem like if there is a Season 2, then there could be more Logan. And, depending on which "team" you're currently on, that could either be a great thing or terrible news.
Almost Everyone Else Would Likely Return
Much of the supporting Gilmore Girls cast, like Michel, Gypsy, and Kirk were among the huge group of Stars Hollow residents who were confirmed to be back for the revival right away. So although they haven't spoken out about the possibility of a Season 2 as much as some of the main players, you can kind of assume that they'd be game for a second installment as well. And really, what is Stars Hollow without Miss Patty or Taylor running around?
Season 2 of the Gilmore Girls revival has yet to be announced or confirmed, but if they decide to bring it back yet again, fans can likely expect most of the original cast to be ready to return for some more Stars Hollow fun once again.