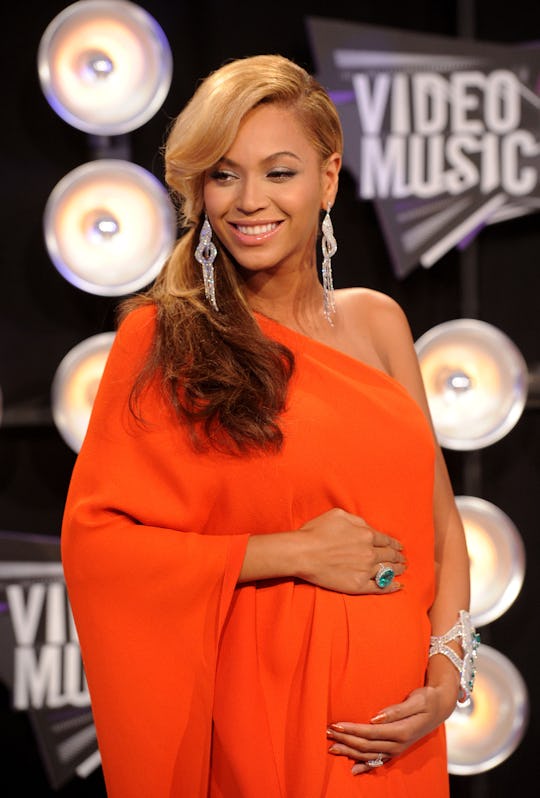 Jason Merritt/Getty Images Entertainment/Getty Images
Pregnant Beyoncé Is Feminist As Ever In Lingerie
Almost as soon as Beyoncé's pregnancy announcement hit Instagram, it had catapulted to the realm of the iconic. There she was in her beautifully mismatched bra and ruffled underwear, nestled among the flowers and foliage, trailing a sheer green veil and cradling her soon-to-be twins. She's the most influential superstar of a generation, letting the world in on her secret on her own terms and using overt and positive physicality to do it. While it seems like a showy pregnancy reveal appropriate almost exclusively for entertainment royalty, Beyoncé's posing in lingerie for her pregnancy announcement makes an important public statement about how our dominant culture often refuses to recognize women's pregnant bodies solely as their own. What's more, it shows all kinds of women that it's OK to be proud of those bodies, no matter how pregnancy alters them.
Most women and girls deal with some form of objectification of their bodies from the time they hit puberty through adulthood, whether it's in the form of school dress codes discriminating against curvier students or the street harassment that's just a part of life for many. And pregnancy can reinforce the idea that women's bodies are public goods in other ways: strangers feeling justified in placing their hands on a protruding belly simply because of the miracle of the life inside, all the way to the unsubtle emphasis on encouraging women to lose the baby weight quickly and applauding them when they're able to create the illusion they were never pregnant in the first place.
And Beyoncé, who is first and foremost a mind-bogglingly hardworking and gifted performer, is also a sex symbol who often bares her body in the name of her art. For some, it's tempting to analyze and critique a body that's so ingrained in the fabric of popular culture ("Bootylicious," anyone?); It's certainly easy to covet it, just a little. But in the pregnancy snap — which in its caption lets fans know that Bey and husband Jay Z "would like to share [their] love and happiness" — the superstar appears alone, very much uncovered, and supremely confident. It's confirmation that she knows she's sexy whether or not she has two little lives growing inside of her, and, more importantly, that she can show off so much of herself without giving up any control over her body. That her pregnancy and the way it's changing her is absolutely nothing to hide.
In its own way, showing off her pregnant belly is Beyoncé's own rebuke of a president who has joked about sexually assaulting women and a vice president who, in his heart of hearts, believes that mothers have no place in the professional world. Her gaze conveys power and strength. It says to all women, you can too.
Perhaps most importantly, Beyoncé's pregnancy announcement reminds us that claiming our bodies as our own as they undergo the natural metamorphosis that is pregnancy is not only acceptable but essential. She's standing in solidarity with Brittany Dykstra, who responded to hateful Facebook comments about her weight when she was pregnant by posting stunning professional ones online. She's clapping back at the internet trolls (and even journalists) who had snide comments to make about the post-pregnancy bump that Kate Middleton justifiably didn't try very hard to hide. She is, like the dedicated feminist we know her to be, flashing two figurative middle fingers at the disrespectful men who relentlessly catcalled Elle Stanger when she was very pregnant, as she recounted in a powerful piece for Romper.
Now that Beyoncé's pregnancy photo is out in the world, it won't be long until replicating it becomes a commonplace means by which to announce a pregnancy on social media. You can even buy the lingerie set she rocked. But beyond copying her aesthetic, what women — pregnant or not — should really keep in mind is her silent assertion that pregnancy is beautiful, and women can and should celebrate their bodies any way they want without giving up any autonomy or ownership over them. Even with the whole world watching, Queen Bey wore that lingerie just for herself.