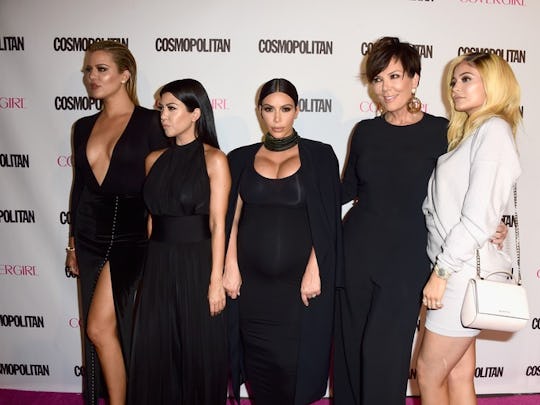 Why Does The Kardashian Christmas Card Only Feature Kids? 4 Reasons Kim & Co. Might Be MIA
It's a Christmas miracle! The 2015 Kardashian Christmas card is here, and it's causing quite a stir. Not because of over-the-top styling, as with the 2013 Kardashian Christmas card, but because of who's missing: all of the adults, as well as baby Saint West. So what gives? Why does the new card, which Kim Kardashian West debuted on her website on Wednesday, feature only her daughter, North West, and Kourtney's kids Mason, Penelope, and Reign? What about Saint and all the grownups?
Listen, I don't know these people, and I don't even watch their show, but I'm an American with access to TV and the Internet, so I do know all their business, and it's not that hard to assume why Kris and her daughters were missing from the yuletide greetings.
For starters, there's the possible tension between Kris Jenner and former spouse Caitlyn Jenner. There was no Kardashian Christmas card at all in 2014. Although the family blamed it on scheduling issues, it's worth noting that matriarch Kris Jenner had just recently ended her 23 year marriage to Caitlyn Jenner. This year, relations between the two are better (they even spent Thanksgiving together), but few people would pose for a Christmas card with their ex. Further complicating the issue is Kris' trouble coming to terms with the revelation that Caitlyn is transgender, though it seems she's made great strides.
Then there's the matter of her daughters' love lives. Her oldest daughter Kourtney broke up with her longtime boyfriend Scott Disick in July, amid rumors of cheating and drug use. Khloé, meanwhile, has been estranged from her husband, Lamar Odom, for two years, but declined to file for divorce after he was found unconscious in a Nevada brothel in October. While the two have not reconciled, Khloé remains his legal wife so that she can make medical decisions on his behalf.
You also have to consider that Kim just gave birth to her second child, Saint, less than three weeks ago. Few moms would be ready to pose for a Christmas card moments after leaving the hospital. It's possible she wanted to opt out the card for personal reasons, and you can't fault her for that.
Finally, there's the Rob Kardashian factor. The sole son of the Kardashian family has been missing from the spotlight for well over a year now, as well as social media. When asked why her son wasn't in this year's Thanksgiving photo, Kris said Rob stopped by for a bit then went to a friend's house. "He's doing all right," she told Us Weekly. "He's not into being on camera as much as the rest of us. But he's working on himself. He's going to be okay." Perhaps his hatred of the camera extends to holiday cards?
Regardless of the reasons, it's nice to see the Kardashian cousins (or is it kousins) come together to give the world a festive and adorable greeting.
Image: Frazer Harrison/Getty Images