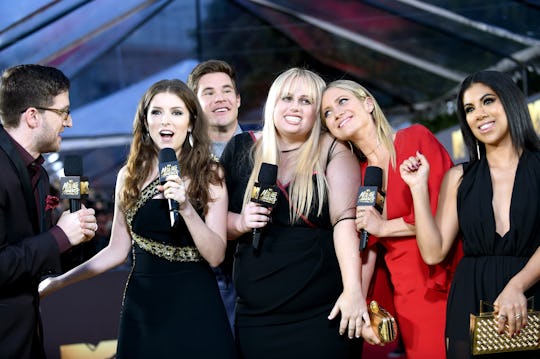 Emma McIntyre/Getty Images Entertainment/Getty Images
Why Is Everyone Standing At The MTV Movie Awards? That Could Get Uncomfortable
So the MTV Movie Awards are way more relaxed than the Oscars, which is great, but why is everyone standing at the MTV Movie Awards? Well, not everyone, of course. The famous folks got to sit down during the two hour award show. But the fans — the real, everyday people who put the stars on the map — had to stand.
Admittedly, I think I would probably be ok with standing if I was at the MTV Movie Awards. The show, which aired Sunday, started out with a predictably more relaxed vibe than the considerably more buttoned-up Oscars or even the slightly more exciting Golden Globes (because at least at the Globes, the celebs get to drink booze and there's always the chance something controversial could happen.)
Hosts Kevin Hart and The Rock opened the show with a curious, and slightly manic, homage to Mad Max: Fury Road, riding in dressed as Mad Max (Hart) and Coma-Doof Warrior (The Rock). They even had the drumming war boys to boot. Fans were jumping up and down and screaming, which seemed a little unwise, considering they will be standing on their feet for at least the next two hours, right? I was particularly concerned especially for anyone in the crowd who might be wearing heels.
Did people feel like it was worth it? Well, yeah. It's the MTV Movie Awards, y'all. Who wouldn't want to go?
Or I don't know, maybe not everyone loved the concept of standing around for five hours.
I think it might have been worth it, shoe-dependent, of course. Were fans warned not to wear high heels? Were they offered those clear ponchos that are at once unattractive but incredibly practical in case it rained? One certainly hopes so.
The good news is, they at least got a pretty decent show, right? Between Halsey and Arianna Grande, that fantastic best kiss moment with Rebel Wilson and Adam Devine and one of my personal favorites, the Lonely Island's medley of Will Smith's best songs, the MTV Movie Awards ended up being non-stop entertainment for the lucky audience.
Sure, seats would have been nice. An indoor venue might have been a little more comfortable too. I guess you sort of have to expect things to be a little looser at the MTV Movie Awards though, right? A little out there, a little unexpected. A whole lot of bleeping, the odd pants-less presenter (I'm talking to you, Alexander Skarsgard). So perhaps standing around for hours is simply the price you pay for a rocking good time.