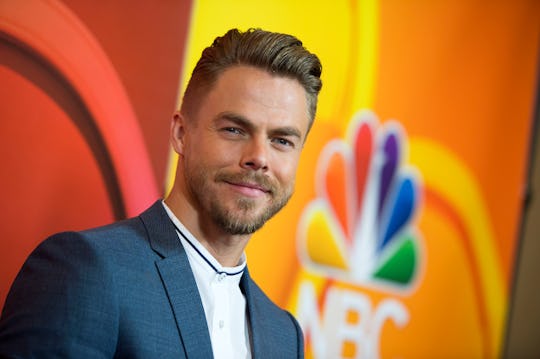 VALERIE MACON/AFP/Getty Images
Derek Hough Is Keeping Himself Pretty Busy These Days
Fans are used to seeing a new batch of dancing contestants each season on Dancing With the Stars, but when it comes to the judges, continuity is best. That's one of the reasons why fans were sad to hear that Julianne Hough would be absent from this season, especially since he brother, Derek Hough appears to be MIA as well. So, why isn't Derek Hough on Dancing With the Stars? He's actually been busy with another show.
But while being a judge on NBC's World of Dance seems to have kept him happy, he did tell Us Weekly that returning to DWTS isn't totally out of the question. "I will never say never," Derek admitted. "Listen, I'm an advocate for dance and I'm an advocate for entertaining. I'm an entertainer. I'm here to serve. I'm here to serve the audience and to create stories and to serve the world of dance. So any way I can help, I'll be happy to do it."
Derek is still new to being a judge on World of Dance, but it's a role that he's enjoyed so far. "I will always be a positive ambassador for [DWTS] for as long as I live because it gave me so much and I love it so much," he told Us Weekly. "But I'm very excited about this new chapter I've turned and it's been very successful so far. It's just been wonderful. I'm very excited."
Luckily, the professional dancer hasn't said goodbye to DWTS forever, but because of his place on World of Dance, it doesn't look like there's much in his schedule for DWTS again anytime soon. Since Julianne won't be back this season, the DWTS judges' panel has been cut to just three and the typical high score of 40 for contestants and their pro partners was changed to 30 for now. But Derek's absence from the show is nothing new since he was already working on World of Dance during Season 24.
Season 25 of DWTS will go on without either of the Hough siblings, and while it's unclear why Julianne isn't on DWTS this season, there's always hope that she'll return in the future, as with Derek, who has already made it clear that he isn't opposed to coming back to the show down the line.
Derek began as a pro dancer on DWTS in Season 4 as a guest instructor for Julianne (who was a pro at the time) and her celebrity partner Apolo Anton Ohno. He continued to appear in most of the proceeding seasons as a pro dancer and was last seen paired with Marilu Henner during Season 23, where he placed sixth. After that, Derek didn't return to DWTS for Season 24, instead opting to begin his run as a judge on World of Dance with Jennifer Lopez and Ne-Yo. And, for right now, that's where he seems happiest to stay.
Recently, Derek did get a flashback to his DWTS days, though. For the 2017 Creative Arts Emmy Awards, he was nominated for Outstanding Choreography for DWTS and in the past he's won the Primetime Emmy Award for Outstanding Choreography for the dancing competition series, so it's definitely helped his career in a lot of ways. Hough did say himself to "never say never" about returning to DWTS, so fans don't have to lose hope just yet, but if his NBC gig finds similar success to DWTS, Derek will likely be sticking around the other network's show for a while.
Watch Romper's new video series, Romper's Doula Diaries:
Check out the entire Romper's Doula Diaries series and other videos on Facebook and the Bustle app across Apple TV, Roku, and Amazon Fire TV.