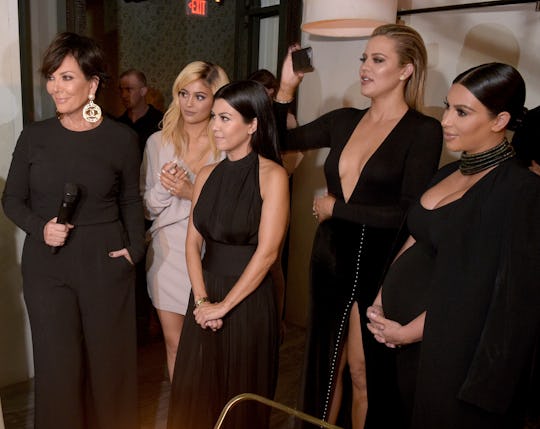 Jason Kempin/Getty Images Entertainment/Getty Images
There's A 'KUWTK' Marathon Of Kim's Favorite Episodes Today For Her Birthday
I can't be the only one whose Sunday night ritual involves getting into my jammies early, heating up leftovers, and watching the newest episode of Keeping Up With the Kardashians. But tonight, you may have to slightly alter your plans, as the show will not air a new episode. But luckily, there's a pretty good reason why Keeping Up With the Kardashians isn't on tonight.
If you've been on Instagram today, Sunday, Oct. 21, you may have noticed that it's the 38th birthday of Queen Kim Kardashian West, aka a national holiday over at E! So to celebrate, the network is airing a Keeping Up With the Kardashians marathon all day long, featuring Kim's favorite episodes of the reality show from over the years. "The birthday girl has spoken!" the show's official Twitter account posted on Thursday, alongside a short trailer. "@KimKardashian has hand-picked her favorite #KUWTK episodes to air this Sunday on E!"
According to Sunday's TV schedule on E!'s website, Keeping Up With the Kardashians will literally be airing every moment of the day, from midnight to midnight. Kim's picks will begin at 11:30 a.m., E! News noted, which will leave you just enough time to sleep late and then relocate to the couch for the day.
So even though it's always a bummer for a Sunday to go by without new antics from the Kardashian-Jenner family, a marathon of Kim's favorite episodes is sure to be equally entertaining. After all, the makeup mogul has had so many iconic moments on the series throughout the years — and fans already have a few predictions about which episodes she might choose. Many took this opportunity to tweet about a few of their favorite Kim scenes from over the years.
Some fans are hoping to see the classic scene when Kim lost her $75,000 diamond earring in the ocean.
Others are hoping to relive Kanye West's proposal.
Some fans want to relive the context around that gif of Kim appearing from within the trees.
And even though Kylie Jenner claims she started wigs, fans are crossing their fingers that a few episodes from Kim's wig phase will make it to air this Sunday.
I'm personally hoping to catch a few episodes featuring Kim's hauntingly beautiful ugly cry.
If you're not one for surprises, you can check out the schedule on E!'s website, which actually reveals the episode schedule for the entire day. Kim of course chose a few recent episodes chronicling the new KarJenner babies coming in to the world. The episode "We Love Chicago," in which Kim prepares to welcome her daughter Chicago, will air twice, at 12 p.m. and 10 p.m. At 1 p.m., "The Perfect Stormi" will air, which chronicles Kylie welcoming baby Stormi. And at 5 p.m., fans will get to relive "Photo Shoot Dispute," when Kim, Khloé, and Kourtney fought over last year family's Christmas card shoot.
That should all sufficiently make up for the lack of a new episode tonight. But in case the marathon still leaves you wanting more, Keeping Up will be back with a new episode next Sunday, Oct. 28.