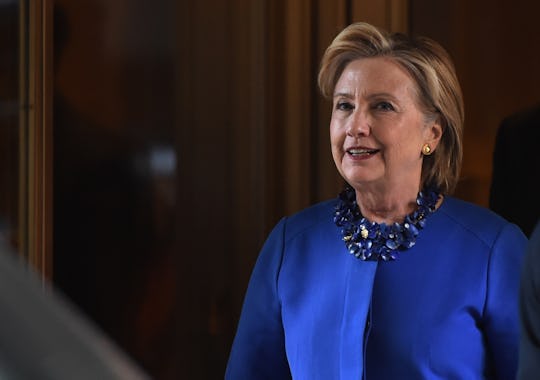 TIMOTHY A. CLARY/AFP/Getty Images
Why The Columbus Dispatch's Hillary Clinton Endorsement Is So Notable
On Sunday, Hillary Clinton secured what is arguably the most sought-after newspaper endorsement in the country. In it, the editorial board of Ohio's The Columbus Dispatch recognized that the former Secretary of State is "well-equipped for the job" and praised her "long record of service to families, women and children." The endorsement comes just days after The Washington Post published an explosive report on a 2005 video that features her opponent, Republican Donald Trump, gloating about admittedly advancing on women sexually without consent. It's a revelation that could prove catastrophic for the candidate. So, The Columbus Dispatch's Hillary Clinton endorsement is notable not because it's a ringing vote of confidence in her — it's not — but because it's more of a condemnation in Donald Trump.
The Dispatch's endorsement of Clinton marks the first time the newspaper has aligned itself with a Democratic presidential candidate in a full century, according to Politico. And the board didn't hold back in airing its reservations about her: "Preferring Clinton to Trump does not mean the Dispatch embraces all elements of her platform," the board wrote. "Her calls for higher taxes, unsustainable spending and the likelihood that she will try to stack the U.S. Supreme Court with a left-leaning majority are unwelcome."
But Trump's consistent ineptitude and flagrantly offensive behavior — which has culminated in this weekend's publicizing of a long-archived recording of a would-be private conversation during which Trump laughs about what he viewed as entitlement to "grab [women] by the pussy" — appears to override those significant grievances. In just the fourth paragraph of the endorsement, the Dispatch editorial board slams Trump as "narcissistic" and "morally bankrupt."
The Dispatch traditionally has endorsed Republican presidential candidates, but Trump does not espouse or support traditional Republican values, such as fiscal prudence, limited government and free trade, not to mention civility and decency. We are disappointed that so many Republican leaders have accommodated a narcissistic, morally bankrupt candidate who is so clearly out of step with those values.
Clinching the endorsement of the Dispatch has long been a significant and coveted political accomplishment for presidential candidates, The Huffington Post reported. That's because Ohio is a noted battleground state that often plays a crucial role in deciding the general election. 2016 is no different: A Real Clear Politics average compiled Friday shows Clinton with just a 1 point advantage over Trump in the polls, edging him by a slim 46 to 45 percent of likely voters.
Even before the video and audio recording of Trump's lascivious conversation with then-Access Hollywood host Billy Bush surfaced, newspapers that might otherwise have opted to back a Republican candidate were declining to do so. The editorial board of The Chicago Tribune, for example, generated headlines across the country Sept. 30 when it endorsed Libertarian candidate Gary Johnson, calling Trump "bombastic and self-aggrandizing" and refraining from endorsing Clinton because of "serious questions about honesty and trust."
Donald Trump and Hillary Clinton are the most widely disliked presidential candidates ever. And history has taught us that, after a the country has lived eight years with a Democrat in the White House, its voters should readily elect a Republican to hold the nation's highest office. Like so much else, though, Trump has flipped that conventional wisdom on its head throughout this campaign season, with dangerous statements and moves like his cavalier attitude toward using nuclear weapons, his refusal to release his tax returns, publicly feuding with the family of a Muslim America soldier who died in combat, and the near-constant insults he lobs at so many categorizations of people.
So, despite its long history of endorsing Republicans, The Columbus Dispatch won't tolerate those kinds of words and actions in a president — and in its denunciation of him, the paper had some choice words for Trump, as well:
He has proved himself a liar of epic proportion. He is a bigot, a braggart and an admirer of foreign thugs such as Russia's Vladimir Putin. He is reckless and thin-skinned. He has demeaned Mexicans, demonized Muslims, insulted women and mocked the disabled.
Over the weekend, The condemnation of Trump's comments about women in the "Trump tape" was swift and reverberated even through flabbergasted circles of elite Republicans. The party — and even Trump's own running mate — is distancing itself from him, scrambling to keep whatever dignity it has left intact. Trump is paying for his reckless attitude in newspaper endorsements as well, as The Columbus Dispatch's Hillary Clinton endorsement so clearly demonstrates. His critics hope it will cost him the White House, too.