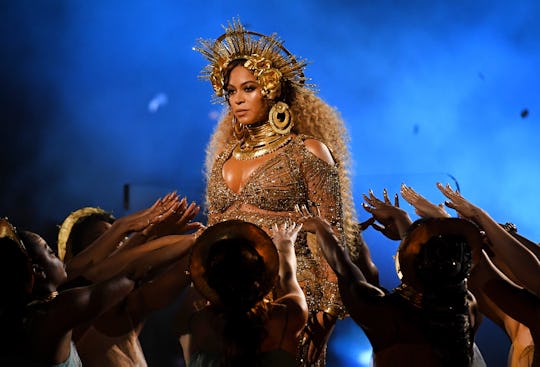 Kevork Djansezian/Getty Images Entertainment/Getty Images
Will Beyonce Release A Maternity Line?
Beyoncé is iconic, every day and in every way. So, ever since the megastar announced she and husband Jay Z are expecting twins in an internet-transforming Instagram post back in February, eyes from the Beyhive and BEY-ond have been tracking her maternity style. Plenty of her pregnancy looks are pretty much fit exclusively for the one and only Queen B, but obsess over and copy her many of her legions of admirers must. To make that a tad easier and much more accessible, will Beyoncé release a maternity line? Even though Bey-watchers are anticipating the babies' birth literally any second now, it always could still happen.
After all, Beyoncé has quite the history of delighting her fans with surprises and meticulously held secrets, á la the life-changing out-of-nowhere Beyoncé visual album of 2013 and her recent epic twins announcement that hit the web without so much of a tiny prior leak despite the world's enduring obsession with her womb. So, why not a maternity line drop the day (sometime soon!) that she and Jay reveal they've expanded their dynasty by two? That's (part of) the ephemeral flawlessness that is Beyoncé: You just never quite know what gifts she'll bestow upon her kingdom next.
After all, Bey is no stranger to rolling out branded apparel to the (stylish) masses, and I'm not just talking about the ingenious "Boycott Beyoncé" shirts. She debuted her athletic line, Ivy Park, in April last year (though a corresponding kids' line never materialized, despite a tantalizing hint in a promo video). And more to the point, she also announced that she would release a maternity line when she was pregnant with her now-5-year-old daughter, Blue Ivy, in 2011. "It's been so exciting for me!" she told Harper's Bazaar at the time in discussing her plans to introduce the line under House of Deréon, which she produced with her mom. "I love figuring out designs that still make me feel edgy and sexy while pregnant."
But that was then, and (sadly) House of Deréon unofficially shut down shortly after that interview, in 2012. And Bey — who's harnessed her pregnancy as a social media art project, Rolling Stone's Justin Ravitz pointed out — should really give it another go. From a $22,000 courtside kimono to a Nigerian-themed baby shower look to a down-to-earth ASOS "PREGGERS" tee, Bey's demonstrated she can rock it all even with two tiny humans in her belly. Use your astute fashion sense and propensity for world domination once more, Bey: Give the people the fashion line they want and deserve, and, please, make sure it's moderately priced.