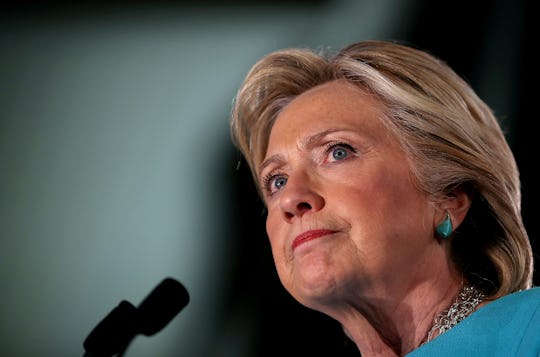 Justin Sullivan/Getty Images News/Getty Images
Will Hillary Clinton Contest The Election If She Loses? Her Opponent Hasn't Committed
Hillary Clinton needs to win big. At least, that's the thinking within her campaign, which is filled with veteran political operatives who know that a wide margin of victory in this presidential race will help to mitigate accusations from the other side that the election was "rigged." Republican Donald Trump has consistently claimed that his poll numbers are sagging because of media bias and has even encouraged his supporters to patrol polling sites to identify instances of voter fraud on Nov. 8. He has even made the unprecedented admission that he may not accept the outcome of the election if he loses. All of this threatens the peaceful transfers of power that are the hallmark of the American democracy — and raises questions about whether Hillary Clinton would attempt to contest the election if she's not declared the victor, as well.
But Clinton hasn't made any controversial dangerous statements like "I will totally accept the results of this great and historic presidential election — if I win," as Trump did at an Ohio rally in October. (His running mate, Mike Pence, has since attempted to reassure the public that the pair will concede to Clinton if it comes to that, as long as the election result is "clear.") Instead, her team has focused on bolstering its projected victory to ensure that even the most fervent members of Trump's base will struggle to identify the results of the election as illegitimate in any way.
"We can't just beat this guy," Clinton spokeswoman Christina Reynolds recently wrote to potential donors, according to The New York Times. "We've got to beat him so definitively that Hillary's victory is undeniable."
And although the race has tightened on the eve of Election Day, the majority of national general election polls project that Clinton will emerge as the winner not long after the polls close Tuesday, or possibly before. An ABC/Washington Post tracking poll, for example, has Clinton beating out Trump by 4 points in a two-way race.
And the former Secretary of State had an undeniably positive final weekend of campaigning. It started off on Friday with a rally-concert hybrid with performances by Beyoncé, Jay Z, and others followed by a Saturday rally with Cavaliers star LeBron James — both in the crucial swing state of Ohio — and culminated with the news that the FBI is upholding its recommendation of no charges after it announced late last month that it had found more emails related to the ongoing controversy of Clinton's use of a private server as secretary of state.
And even a more coiffed, controlled Trump from whom his staff has reportedly wrested a control of his notorious, problematic Twitter account is still faltering behind Clinton's momentum. His path to garnering the 270 electoral votes needed to win is much more precarious than Clinton's and largely hinges on low voter turnout among chief Clinton constituencies like women and Latinos.
Likewise, his chances of successfully contesting the results of the election through official channels (which would require him to present specific evidence of widespread voter fraud or other problems on a state-by-state basis) don't appear very promising for the candidate. What he — and, in theory, Clinton, too — could do is refuse to concede the election, as the loser traditionally does, and therefore cause unrest and possibly violence among diehards who believe he was cheated.
So, even though she's still working tirelessly and relentlessly to shore up all the votes she can possibly get, particularly in key states like Ohio, Florida, and Pennsylvania, Clinton must be feeling at least cautiously optimistic. That contrasts strongly with Trump, whose cries of a rigged election often correspond with his dips in the polls.