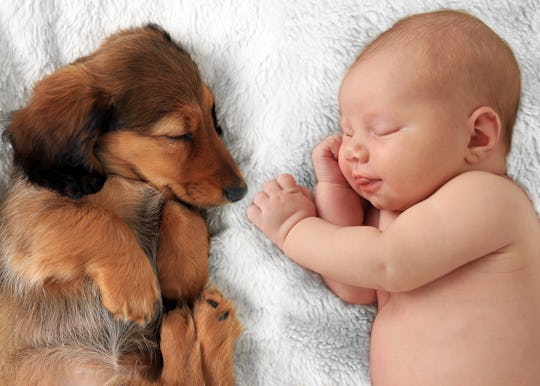 Shutterstock
27 Baby & Dog Photo Shoot Ideas So Cute, You Won't Be Able To Stand It
Serious cuteness overload.
When life is starting to fall apart and you've missed your train and your WiFi simply refuses to load, it's easy to assume that this is, in fact, the end of the world. There's not much that can provide comfort in these times of complete and utter frustration, but pics of puppies and babies can usually help. Perhaps that's why so many new parents are searching for baby and dog photo shoot ideas these days... the world needs all the cute it can get right now.
Of course, baby-puppy photography is more than just a distraction from dark days. Perhaps you're a parent desperately searching for a way to introduce your child to your Facebook page without seeming unoriginal. Or maybe you're just looking for ways to melt your own heart. Either way, this is where the puppies come in.
Gone are the days of using flowers and stuffed animals as props. Now is the time to up the ante! You're the proud parent of not one, but two adorable entities, so why not capitalize on that? Break the norms, shock the masses, and include your pet in your baby's first photo shoot (safely, of course). Feel free to use some of these adorable ideas for inspo or just check them out if you're in need of a good old-fashioned cuteness overload... no judgment here. (Oh, and if you don't have a dog? Consider borrowing one for the day from a friend or family member.)